(Last Updated On: November 24, 2021)
What Is The Color Factory?
The Color Factory is an immersive, youthful and funky art installation in the SoHo area of New York City. The original Color Factory started in San Francisco and became so popular that New York had to get in on the fun. It's a total celebration of colour, it is great for vibrant travel photos and it is a hell of a lot of fun to visit.
Disclosure:  This post may contain affiliate links. I only recommend products or services I would use myself and all opinions expressed here are my own. If you use these links to buy something, I may earn a commission at no extra cost to you. Thanks for your continued support.
Why Visit The Color Factory?
The Color Factory is a perfect all-ages experience. Kids will love the splashy, bold colours that trail from room to room and adults will love how food, colour, lights, sound and photography are all pulled into the same immersive exhibit.
The Color Factory also aims to support a wide range of artists, food vendors and not for profit organisations, so you know that you're giving back to the community.
The Color Factory is also wholly indoors, so it's a perfect winter activity if you'd like to get out of the cold for a few hours.
Finally, it's fully accessible, so they're doing the right thing in making sure that their art is for everyone.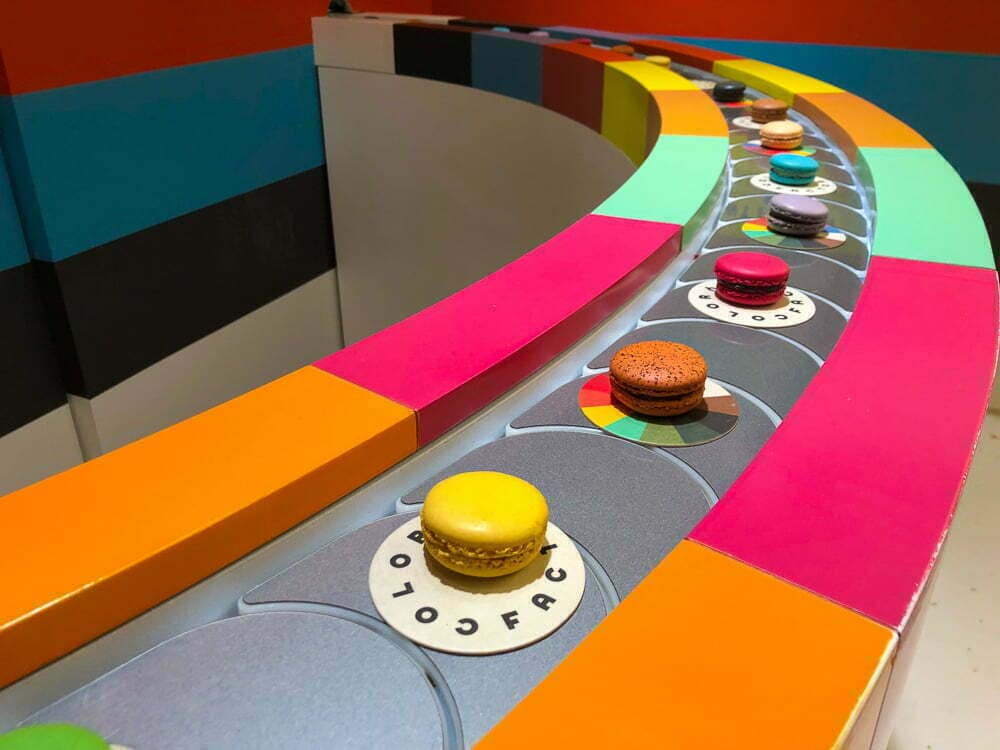 How to Get to The Color Factory
Walk
If you're staying in Midtown (i.e. Times Square) then a walk is going to take a while – about 50 mins to be exact. But if you're staying in SoHo or the West Village, you're probably walking distance to your Color Factory experience at 251 Spring Street, New York City.
Public Transport
There's a subway station on just about every corner in New York City and from Times Square, the 1 or the 2 train will get you to Houston Street Station which is a mere 4-minute walk from the Color Factory. With a metro card, a subway ride will cost you $2.75 USD.
Ride Share
Finally, for the people who want to go visiting the Color Factory in comfort, there's rideshares everywhere in New York City. Uber and Lyft are the big two and a trip will take around 15 mins (depending on traffic of course). An Uber Pool or Lyft Shared will set you back around $8-$16 and a private car will be more like $12-$16. (Side Note: both Uber and Lyft are super handy apps to have downloaded when travelling in the USA, so I would recommend you grab both and just go with whichever app is offering cheaper prices).
Getting Tickets for The Color Factory
Tickets are only available online for the Color Factory, so there's no turning up at the door to pay for entry. When you book, you pick an entry time – be sure to turn up punctually for that entry time because you'll want to ensure you have time to cloak your bags and/or jackets. Sessions vary a little, but usually run from around 9.30am to 8pm.
General Admission is $38 USD which includes all the little colourful food treats that pop up throughout the exhibition. Kids younger than 2 can enter free but note that nobody under the age of 18 can enter without a parent or guardian present.
What To Expect
On arrival at the door, expect to be asked to present tickets and stand in a bit of a line (depending on how busy the session is). Then an option to cloak any unwanted items will be provided– definitely make sure to unload as much as possible so that you're not hindered trying to carry stuff when in the exhibits. You'll want your hands free for photos!
The first thing to do is a brief induction and then your time in the Color Factory has begun. Awaiting you are 16 interactive exhibits to awaken the senses. Room after room throws vibrant colours right in your face in many forms. Food, sound, balloons, buttons, drawers – all are loud and in living colour.
On entry, you'll also be given a card with a QR Code on it that allows you to use the Color Factory official cameras set up around the room and just send the images to yourself later, so that you don't have to worry about awkward selfie poses.
Of course, it is totally acceptable to take in your own camera. I didn't take in my DSLR because I was worried it would be too bulky and that I wouldn't be able to use it for certain exhibits, but there were others in there with theirs and they managed OK.
If I had my time again, I'd probably throw caution to the wind and take mine in.
There's a heap of brilliant, fun exhibits in the Color Factory, but for me there were a couple of standouts. The entry exhibit with the beautifully curated conveyor belt of scrumptious macaroons was one such example of colour and food colliding in the best kind of way.
The metallic pastel coloured balloon room is also gorgeous – the freedom gleaned from throwing a bunch of balloons up in the air and watching the wishes written on them floating down past my face was palpable.
Finally, the piece de resistance is the Color Factory's famous blue ball pit, best enjoyed with a sample size of the perfectly matching ice-cream given out for good measure. The big kid in me loved sinking into the ball pit, swimming through a seemingly endless sea of pastel blue.
When the night was over, I felt exhilarated, energetic and ready for anything. It was the perfect way to spend my last night in New York City.
If you need any more convincing to visit the Color Factory, then I strongly recommend jumping onto their Instagram account here to see some beautiful photos of their installation. My last words of advice? Throw caution to the wind, embrace your playful side and enjoy your time at the Color Factory, New York.
Where to stay in New York City to visit the Color Factory
The Color Factory is easily accessible and there is truly no shortage of places to stay in New York City. If you want to go peak tourist and stay around the Broadway Theatres, then the Crowne Plaza in Midtown is a great option and close to the subway.
For a more SoHo based stay, SIXTY Soho is a great boutique hotel stay only a five minute walk to The Color Factory. 
Like this post? Pin it to save it for later!