(Last Updated On: October 31, 2020)
A whiff of salt and sea is in the air as I walk the narrow laneways towards Busan's Jagalchi Fish Market from my hotel in busy Nampo-dong. Around me, gumboot clad storekeepers are laying out their catches for the day, a variety of stunned looking sea creatures draped over coloured baskets filled with ice.
Korea's biggest seafood market comes to life every morning at 5am (excepting the first and third Tuesday of each month where the market is closed) and even that early in the day the area thrives and heaves with locals going about their daily food shopping rituals.
Stalls at Jagalchi are run by the 'ajumma' – the Korean word for married or middle-aged woman – who have held court here since the war times when the market thrived despite most men being away fighting. Here they sit, decked out in visors, rubber gloves and bright jackets, lovingly perfecting their seafood displays along the umbrella covered streets outside the modern market building.
A couple of the more friendly Jagalchi Ajummas call out 'hello' to me as I walk past, gesturing to their meticulously positioned catch of the day. Another storekeeper puts a mix of dried fruits in my hands and tells me to try. Amongst the sweetness of the currants and figs, an entire piece of dried ginger makes its way into my mouth and makes my eyes water.
Along my walk in the outer market streets, I notice plastic tubs and buckets containing live sea creatures, not yet at peace with their certain fate. In one brown tub, a rogue octopus plops itself over the edge and onto the asphalt in front of me in an ill-executed escape attempt.
There's no fooling the shop keeper, though, and the tentacles of the hapless blob are prised up from the ground and unceremoniously plonked back into the bucket.
Here at Jagalchi, it feels as if every weird and wonderful kind of sea creature is represented. The eel-like hagfish, the bizarre sea squirt and the stingray are all here along with many other residents of the deep blue ocean that I've never seen before in my life.
On one side of the laneway giant crabs stacked on top of each other in tanks clamber to the top of the pile of shells, like a strange sort of Jenga tower.
On the other, a Jagalchi Ajumma ruthlessly skins a live hagfish for a customer, who watches their breakfast continue wiggling as it is cut up and thrown on the grill – a uniquely Korean delicacy that I'm just not quite game enough to try.
Further down the street, a girl cycles up to a stall and buys a live octopus without ever hopping off her bike. Cash changes hands and the creature is handed to her in a plastic shopping bag, fresh and still live, and she promptly puts it in her backpack, zips up and rides off.
The magic of Jagalchi Fish Market is simply wandering the stores to your heart's content, marvelling at one of the largest arrays of sea creatures ever to be assembled in one spot. This is a different way of life and one that truly highlights just how much seafood is part of the life blood of Busan.
The fancy, modern building housing the main Jagalchi market is certainly a great visit, too (and a beautiful piece of architecture), but I found the heart and soul of the Busanites by strolling the street stalls.
Getting to Jagalchi Market
I was lucky enough to stay within walking distance of the Jagalchi Market in Nampo-dong which is a great spot to stay if you like bustling street food markets and plenty of action. If you're somewhere more central, such as Busan Station, then you have a few options. I'd recommend downloading the Naver Map app to help navigate Korea since Google Maps doesn't really do the job here.
Walk
From Busan Station, it is possible to walk to Jagalchi Market, though it will take around 40 mins. Still, it's not a hard walk and a good way to see the city.
Bus
From Busan Station, the number 17 bus will take you to Nampo-dong and Jagalchi is a quick 5 minute walk from the stop. The total trip will be just under 20 mins and cost 1,200 KRW.
Subway
Take the orange line 1 train from Busan to Nampo station (2 stops) and walk 7 mins to Jagalchi. This will take around 15 mins and cost 1,300 KRW.
Drive
A taxi will take around 10 minutes from Busan Station, though traffic can be a challenge. The taxi fare will cost around 4,500 KRW.
Ride
The best bike route will take around the same amount of time as a taxi (maybe even quicker if traffic is bad). The only downside is you will need to find a bike hire shop in Busan if you don't have access to one.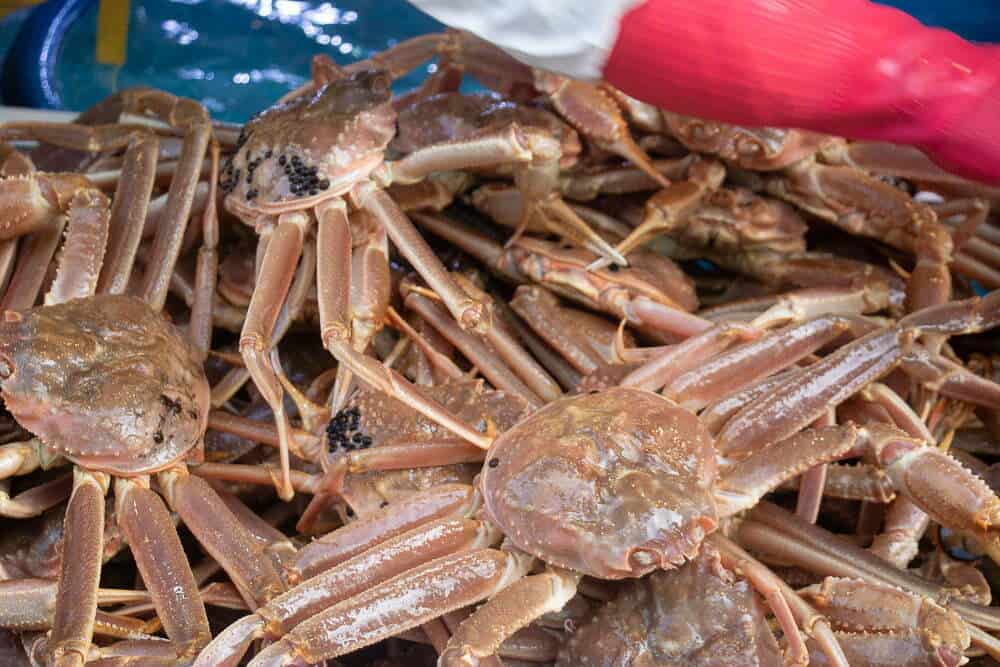 What to expect at Jagalchi Fish Market?
It is a local market
Though Jagalchi Fish Market is at the top of a lot of tourism lists of things to do in Busan, it is still definitely a very local working market at the centre of Busan life. With this in mind, it is important to remember that the storekeepers here are real people, just doing their job. If they're serving a customer then give them space to do so, and always ask before taking a photo of them.
Watch out
Watch out for motorbikes zipping in and out of the impossibly narrow streets at the outer market, stopping in at stalls along the way. They'll duck and weave around you, but best to hop out of their way if you see them coming. 
Not for the Squeamish
The Jagalchi Fish Market is full of dried, live and dead seafood. If you're squeamish at the thought of seeing hollowed out, dried fish hanging from the shanty-house style shop roofs or live seafood being gutted and cut up in front of you, then enter Jagalchi at your own risk.
It is free to visit
Jagalchi Market is free to visit, so it is a great way to spend a morning in Busan without shelling out any cash. A great way to finish your trip is to have a seafood lunch after your visit in one of the restaurants at the market – you'd be hard pressed to find seafood fresher than these places.  
Jagalchi Market Information
Open Hours:   7 days a week from 5am – 10pm
                              Closed the first and third Tuesday of each month
Address:           52, Jagalchihaean-ro, Jung-gu, Busan
                             부산광역시 중구 자갈치해안로 52 (남포동4가)
Cost:                  Free
Like this post? Pin to save it for later!