(Last Updated On: April 15, 2021)
How to get to Saint-Paul de Vence from Nice?
Nice is the perfect base for a French Riviera holiday, but that doesn't mean that you shouldn't head out and explore the other towns on the Cote d'Azur. Once such town that is unmissable is the hilltop artistic haven that is Saint-Paul de Vence.
Saint-Paul de Vence is a great day trip from Nice for many reasons. It's a complete change of pace from the beachside towns of the French Riviera with romantic, hilly countryside, olive groves and mountain vineyards.
Disclosure:  This post may contain affiliate links. I only recommend products or services I would use myself and all opinions expressed here are my own. If you use these links to buy something, I may earn a commission at no extra cost to you. Thanks for your continued support.
Getting to Saint-Paul de Vence from Nice
It's super easy to get public transport from Nice to get to Saint-Paul de Vence and given that an Uber will set you back around 40 euros, the bus or the train is 100% the way to go for ease and cost efficiency.
Bus (+ likely tram)
For the most cost efficient method, but the longest travel time, the bus will cost 3 euros return from Nice (Parc Phoenix Station) to Saint-Paul de Vence. This method of travel will take an hour and ten minutes, so if you're short on time it may be worth paying a little extra for the train option.
The French Riviera bus lines are extremely reliable and cheap. From Parc Phoenix, you'll be looking for the 400 Bus, which goes from Nice to Vence via Saint-Paul de Vence. The timetables for that service can be found here. It is worth considering that Parc Phoenix is out near Nice airport, so you'll likely have to get the tram towards the airport in order to connect with the bus.
From the tram stop Jean Médecin in central Nice, a oneway tram trip to Parc Phoenix will take around 30 mins and cost 1.50 euros. When you add this all up, the journey could take up to an hour and forty minutes and cost 6 euros, when for four euros more on the train, the trip could take around 40 mins. 
Train + Bus
For travel that won't break the bank, but that gets you there a little quicker than just staying on the bus, then grab the train from Gare de Nice Ville (Nice Station) to Cagnes sur Mer station and then pop across the road to catch up with the number 400 bus from there.
It's about 25 minutes from Nice to Cagnes sur Mer on the train and then a further 15 minutes on the bus, so journeying this way will save around 30 minutes if you time the train to bus transfer well. A return train ticket will cost just under 7 euros to Cagnes sur Mer, plus the 3 euros for the return bus fare. A total of 10 euros for a return trip is not too bad if time is of the essence. 
Where to stay near Saint Paul de Vence?
What to do on a day trip in Saint-Paul de Vence?
Walk the ramparts
The walls surrounding the village of Saint-Paul de Vence date all the way back to the 16th Century. Today, visitors to the city can step up onto the ramparts and take an elevated walk around the perimeter of the walled-in town. There are no guard rails and the walkway is only narrow, but the walk is easy enough provided you keep an eye on where you're walking.
The views from the ramparts look out over the different corners of Provence. From one direction, the Mediterranean sparkles in the distance. From another, olive groves and vineyards can be seen deocrating the hillside. In a different corner, the famous cemetery of Saint-Paul de Vence lies below, facing out over the countryside. 
Looking inwards, the quaint medieval village houses can be seen, many of them covered in vines that change colour with the seasons. Washing is strung out precariously from shuttered windows; a reminder that some folks are lucky enough to call this picture-perfect village home.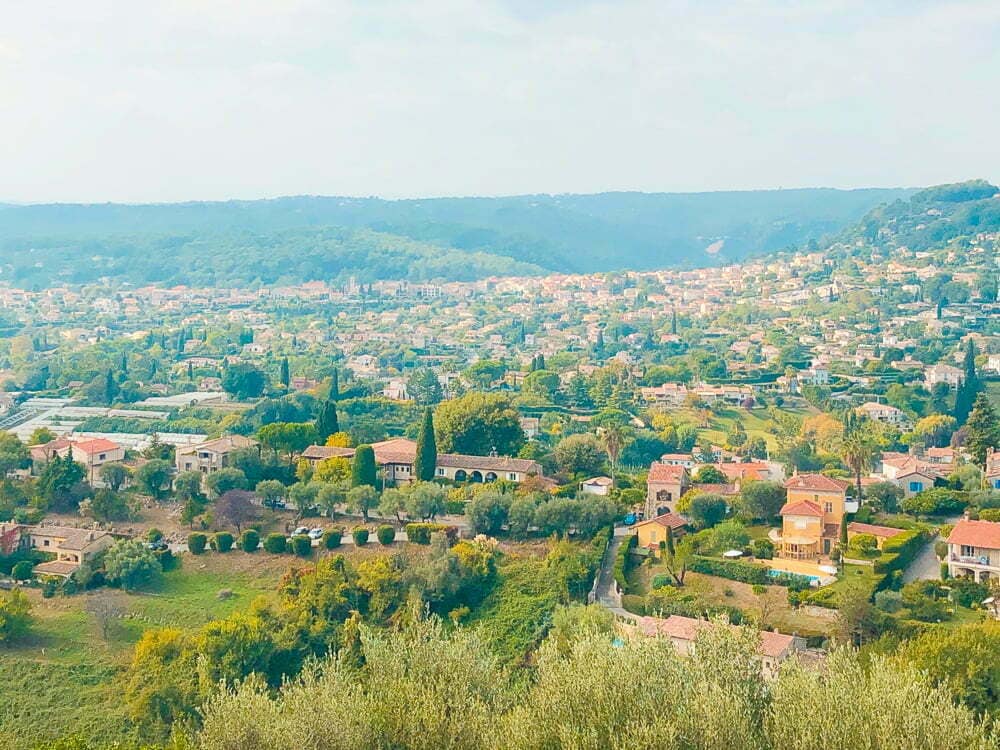 Visit the Cemetery
The beautiful cemetery just outside the ramparts of Saint-Paul de Vence is small and intimate, with just a few rows of headstones and graves to walk amongst. As you enter the cemetery from the town walls, the grave of local artist Marc Chagall can be seen on the left side of the right hand pathway, covered in little pebbles that locals and tourists alike have used to scrawl farewell and thank you  messages to the revered painter. 
The cemetery of Saint-Paul de Vence also offers up beautiful, sweeping views looking all the way back to the vibrant ocean of the Cote d'Azur through the Provence countryside.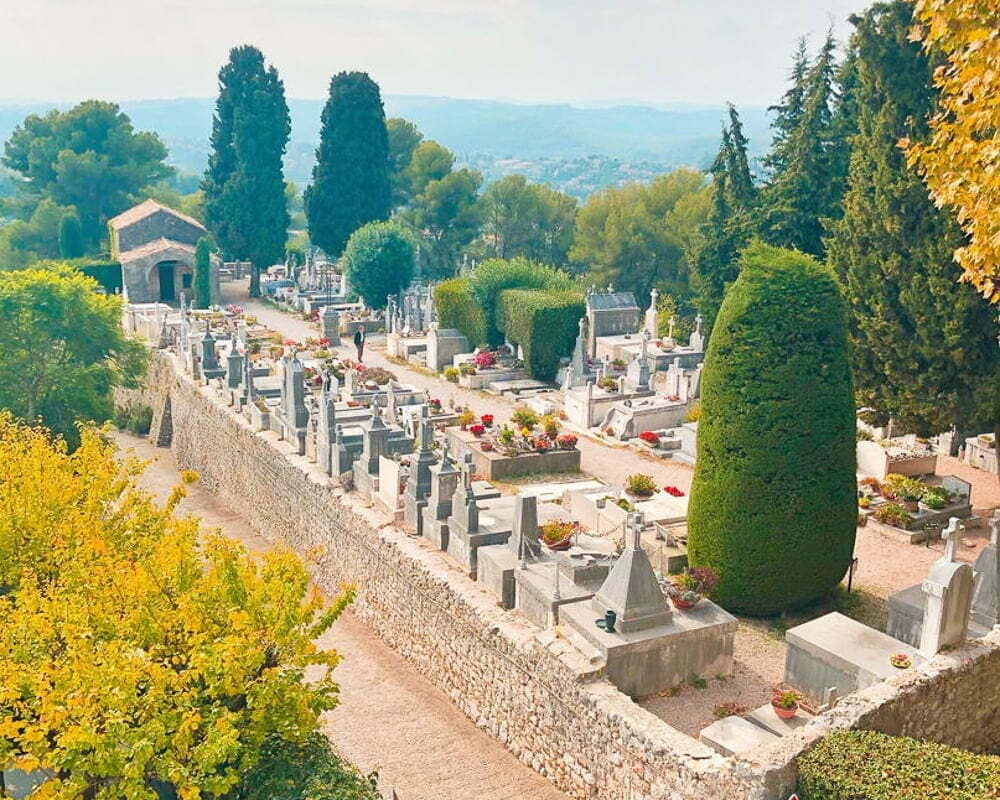 Visit the town's boutique shops & galleries
Saint-Paul de Vence is known for its myriad of art galleries and gorgeous little boutique shops hidden amongst its winding, pebbled streets. As the village isn't all that large, it's definitely possible to walk through all the nooks and crannies on a day trip and uncover the delights of these shops buy yourself, however if time is of the essence, there are a few stops that I believe are a must visit.
For perfumes in a picturesque setting, the Maison de Parfums Godet on Rue Grande is the perfect spot to tantalise your nostrils. Frequented by the muse of artist Henri Matisse, this gorgeous Parisian parfum house has a proud history of serving the village of Saint-Paul de Vence and is the prettiest store in the entire village.
For the food and wine seekers, never fear because Saint-Paul de Vence has plenty to offer you, too. The narrow, cramped and totally authentic La Cave de Saint Paul is awaiting your visit with wine tastings on offer in the teeny tiny 14th Century French cellar. 
If wine isn't your thing, but you're on a culinary quest, then local produce in the beautifully decorated Maison Bremond or La Maison BB should impress with local olive oils, tapenade and dressings. Truffle oils, pesto and vinegars are all on sale here, and make a great present for any would-be chefs back home.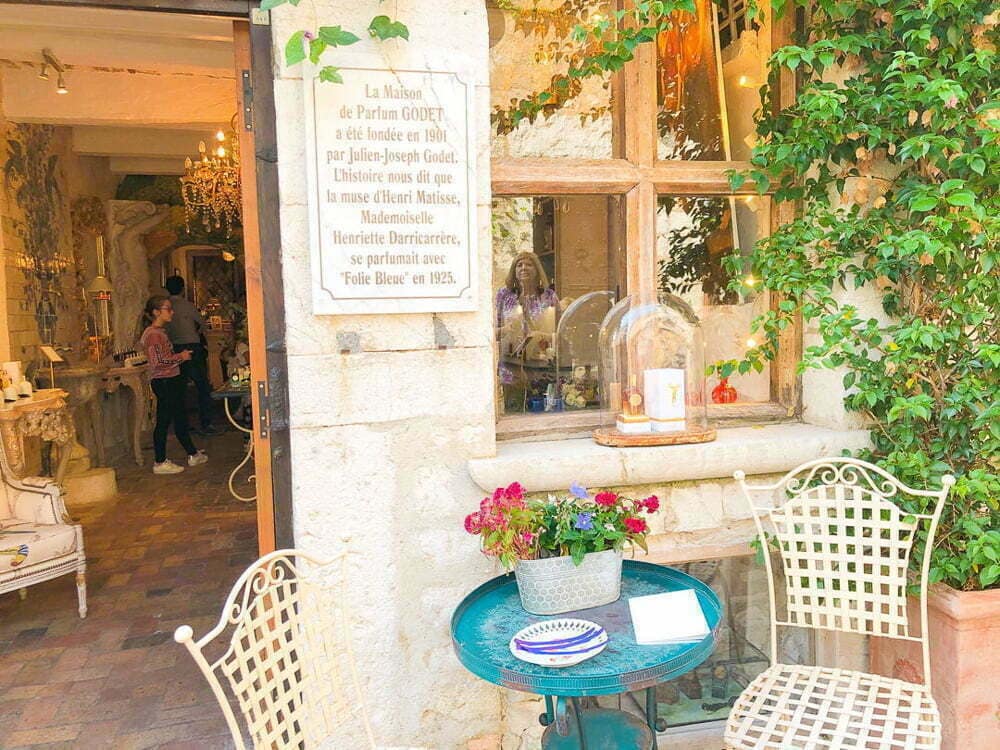 Its totally possible to spend a full day wandering the streets of Saint-Paul de Vence and when the scenery is this pretty, why wouldn't you? There are plenty of spots to grab a meal along your stroll – whether it be a crepe from a street food stall or going all out with a fancy meal at the town's signature restaurant at La Colombe d'Or. 
In my opinion, the afternoon is best closed out in some of that famous French Riviera sun with an Aperol Spritz in hand, before the bus trip back to Nice. 
Like this post? Pin to save it for later.