(Last Updated On: May 28, 2021)
I just love visiting Hobart in Australia's southern-most state, Tasmania. There's so much to do here as Hobart is one of the best Australian city breaks to take, but undoubtedly one of the biggest drawcards in recent times is the quirky, eclectic and downright bizarre collection of art at MONA – the Museum of Old and New Art. As the museum is not in the centre of the city, often the question pops up – how to get to MONA from Hobart?
In this post, I'll walk you through your options for visiting MONA as well as walk you through some of the wonderful things to look out for as you explore the museum.
Disclosure:  This post may contain affiliate links. I only recommend products or services I would use myself and all opinions expressed here are my own. If you use these links to buy something, I may earn a commission at no extra cost to you. Thanks for your continued support.
How to get to MONA from Hobart
MONA is located in Berridale and is accessible by car, bus or by ferry. While you're considering how to get to MONA from Hobart, I do want to say this: if you possibly can, please take the ferry and if you'd like to really travel in style, then splash out for tickets to the Posh Pit (VIP area).
Getting to MONA by boat
The MONA Roma is the name of the catamaran that transports you across the Derwent River to the museum. It's $58 per head for a return ticket in the Posh Pit where you'll be able to relax as staff continuously top up your champagne (as much as you can muster for the 30 min ride) and serve canapes of delicious local produce.
If you don't want to splash that sort of cash, though, don't despair as the standard ride is just as spectacular (and a la carte food and beverages can be bought). A standard ticket will cost $23 for a return trip. Catch the boat from the Brooke St Pier right near the Salamanca Markets.
The other thing to note if you're looking at taking the boat over is that there are 99 steps to climb up at MONA and there is no accessibility. If you have specific assistance requirements or prams, then this is important to know ahead of time so you can assess whether travelling by boat is suitable.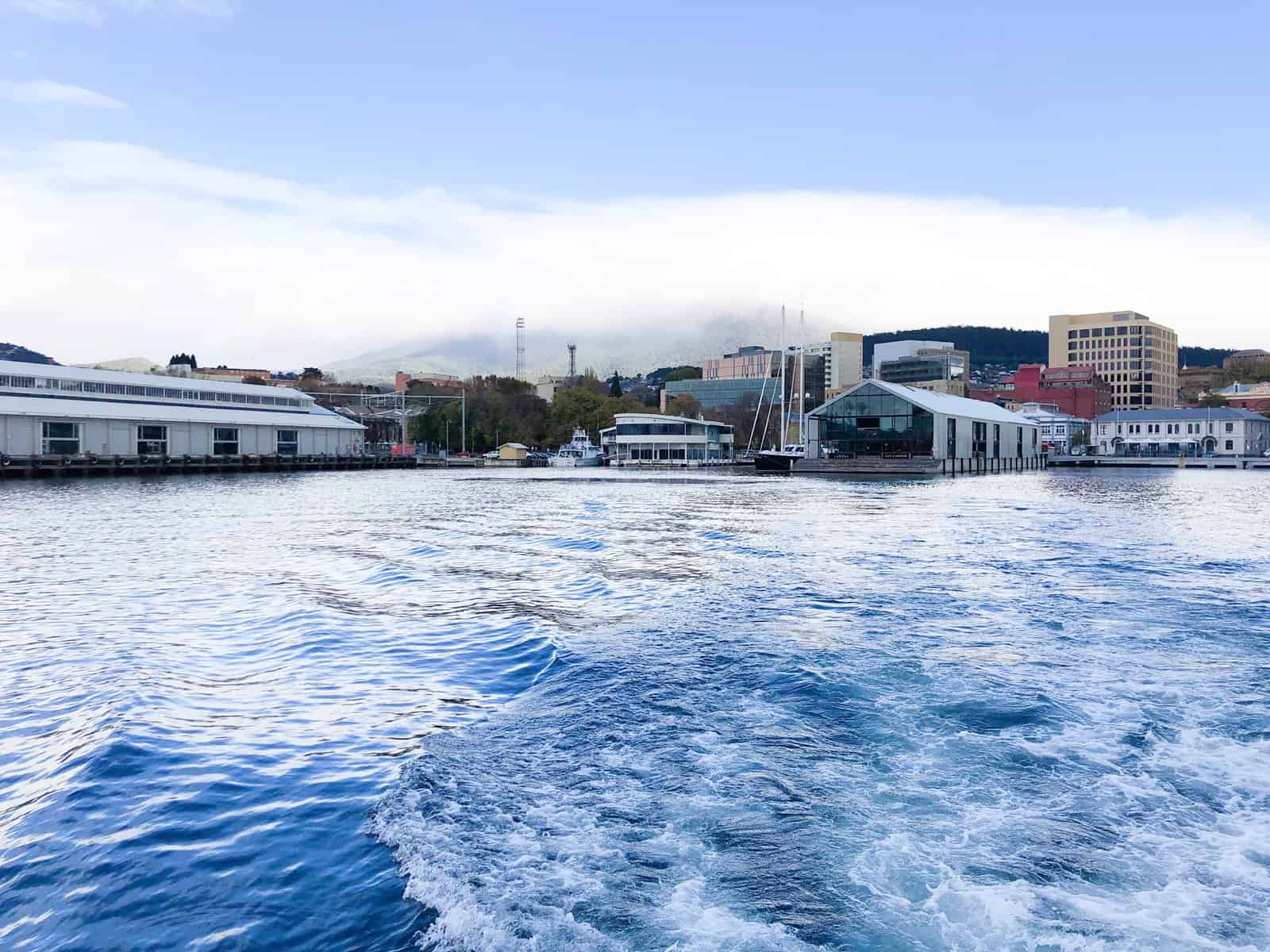 Getting to MONA by Bus
MONA also run bus services (so do be careful when checking the timetable that you're not booking a bus only timeslot if you intend to travel by ferry.
The bus ride is significantly cheaper than the boat at $15 for a return journey and is a great option for those who require wheelchair accessibility. The trip departs from the Brooke Street Pier and takes around 30 mins.
If you're not stressed about taking the public bus, then this is also an option as they go regularly from the CBD of Hobart. Jump on at the City Interchange stop and travel on the X20 towards Cove Hill Fair. MONA will be 6 stops down the route at Stop 33, 656 Main Road and there'll be a brief 10 minute walk to MONA from there.
Getting to MONA by Car
If you're exploring Tasmania a little further beyond Hobart, you'll likely have hired a car (or brought yours over on the Spirit of Tasmania).
Tassie isn't known for its great public transport, so definitely hiring a car is a great idea for a Tasmanian roadtrip. From the Hobart CBD, a car trip will take around 20 mins along the Brooker Highway to get to MONA. 
What to expect when you arrive at MONA
Now that you've figured out how to get to MONA from Hobart, it is time for the fun stuff… exploring MONA.
MONA, or the Museum of Old and New Art, has become a Hobart institution since it was created by David Walsh. It's a bizarre and ever-changing mishmash of the weird, macabre, wacky and artistic that starts 3 stories below the earth's surface and continues to impress as museum-goers work their way back up to see the light of day.
The contents of the museum are changed regularly, so it's the kind of place you can pay many a visit to and see many different things each time. Though, I am pleased to say that there are also many familiar favourites that also are staples of the museum and I look forward to greeting them like old friends on every visit.
The museum complex itself is remarkable. On arrival, visitors are shuffled into a capsule shaped glass lift and sent down to the museum's starting point whilst through the glass I could see the exposed rock and clay of the earth we were descending into. It's a breathtaking entrance to the museum and really sets the tone for the incredible architecture throughout.
How to explore MONA
Book in advance
In these post-pandemic times, booking has become essential again in most industries and MONA is no exception. Booking your ticket online in advance is a must, to ensure that you get the entrance time you want and that you don't miss out. The MONA website allows you to book boat transport and museum entry in the one transaction.
How long should I spend at MONA
MONA takes the best part of a full day as there is so much to see, do and eat both inside and outside the museum. Allow at least 5 hours from catching the ferry over to MONA to really enjoy the experience without feeling rushed. As a guide, I left Hobart on the ferry at 11am and returned on the last departure of the day at 5pm.
The O App
MONA has its own app, called The O. The artwork at MONA doesn't have signs or labels on it, so to truly appreciate the art and learn about the artist who created it, The O is your companion for a MONA visit. Pre-COVID, The O was provided as an audio guide by the museum, but now it is a downloadable app that allows you to utilise your own headphones and device as you navigate the museum.
The O also allows you to join virtual queues for some of the exhibits that have a limit on people who can enter, such as the Death Gallery. The O will also guide you around the outside areas of MONA with maps and information for those wanting to sample food or wine.
Art to look out for
Snake by Sidney Nolan
One of the largest rooms at MONA exhibits a curved wall with Sidney Nolan's massive artwork Snake. This work needs to be admired from many angles as from up close, you can see each individual image that makes up the huge work and from afar you can truly appreciate the enormity of the piece and see the snake sillouhette trailing across the wall.  
bit.fall by Julius Popp
This installation is one I could just watch all day and it is one of the first things you'll see on entering the museum. Using falling water, light and language, this work fleetingly pulls words currently being used in the media and projects them in the falling water for a split second. It's truly magical. 
The Death Gallery – Digital Installation by Paul Bourke and Peter Morse
One exhibition that you need to join a virtual queue on your MONA 'O' app for is the Death Gallery, which contains unopened coffin containing the mummy of Pausiris (who ruled Egypt in 950 BC) on one side and on the other a digital representation of what would be inside the coffin.
This exhibition is presented eerily beautifully: only two guests at a time can access the chamber, and will have to walk in darkness along light paving stones surrounded by inky black water up to the sarcophagus. Definitely worth lining up for. 
A Portrait of Madonna by Candice Breitz
One of the most light-hearted exhibits in the museum is A Portrait of Madonna by Candice Breitz, which has thirty TV screens set up depicting thirty individuals all singing along to Madonna songs, each in their own style and completely uninhibited. 
It's a unique, silly and joyful experience to watch these strangers belting out some of her most iconic hits and provides a much needed contrast to some of the other macabre exhibits.
China China, Bust 82 by Ah Xian
There are some pieces of art that just stick with you and this porcelain bust by artist Ah Xian epitomises that for me. On my first visit to MONA I was struck by the beauty of this gorgeous work and was very much hoping to see him again on my second visit five years later. The bust had moved, but when I laid eyes on it, it felt like being greeted by an old (stoic) friend.
I still can't quite articulate why I like this work so much, but then I guess that is the beauty of art!
Outside at MONA
Once you've finished in the museum, your time at MONA is far from over. Before you exit the museum complex, my advice is to head right back to the 3 stories below ground entrance way and stop in at VOID bar for a beverage. From here you can digest, enjoy the architecture and talk through what you've just explored. 
The outdoor complex boasts several great spots for a tipple as well as beanbags to laze about outdoors. There's also a winery called Morillo Wines with a cellar door tasting available.
The Source restuarant is world renowned for incredible food sourced from local Tasmanian produce and for a less fancy snack, the Morillo wine bar makes a mean cheese plate to wash down with a glass of local Pinot Noir.
Heading back to Hobart
Once you've sampled all there is to eat, drink and see at MONA it is time to head back. The good news is, you just basically follow the advice for how to get to MONA from Hobart and reverse it all!
In the late afternoon it does get cold waiting for the boat, so make sure you're rugged up so you can line up early and get a great seat indoors by the window and enjoy the view without freezing!
There's a bar on the boat, too, so you can always kiss MONA goodbye with a nice glass of wine or beer to close out the day.
Where to stay in Hobart
There are many great options for accommodation in Hobart. The lovely Crowne Plaza Hobart in the CBD is a great stay with spectacular amenities and beautiful views of the mountains or harbour.
The Old Woolstore Apartments are another great choice for a simple, yet well located and comfortable stay by the water.
Finally, the Henry Jones Art Hotel is a great, quirky and fun place to stay. 
Like this post on how to get to MONA from Hobart?
Pin to save it for later!