(Last Updated On: June 22, 2021)
Hanoi street food is some of the freshest and most delicious in the world. Sure, sitting in a restaurant has its perks, but there is nothing quite like buying and eating tasty goodies fresh off the street.
For some people, though, this can be a little daunting when you're in a foreign country and don't speak the language. So if you're not confident exploring and buying from street vendors yourself, definitely book yourself on a street food tour through the night markets of Hanoi. Here, you'll be guided through the many wonderful Hanoi street food dishes that locals love, but without the stress of bartering and negotiating with vendors. 
I mean, Vietnam has some other incredible things to do and places to visit such as Halong Bay or Ho Chi Minh city, but I truly believe there's no place quite as special as Hanoi.
Disclosure:  This post may contain affiliate links. I only recommend products or services I would use myself and all opinions expressed here are my own. If you use these links to buy something, I may earn a commission at no extra cost to you. Thanks for your continued support.
Where to stay in Hanoi
I love staying in the Old Quarter of Hanoi. The Sofitel Legend Metropole Hanoi is a grand old hotel that is absolutely perfect for a luxe Vietnam stay in a grandiose French-style building.
The Oriental Suites Hotel & Spa is another great mid-range option for accommodation in the heart of the most historic part of the city.
The Best Hanoi Street Food
You'll find the best Hanoi street food near the Đông Xuân Market on Quốc Oai. This lovely old market has an indoor complex as well as a huge number of surrounding street hawkers serving up food and selling fresh fruit and vegetables.
The market hall itself was originally built in 1889, though it was reconstructed after a fire in 1994. 
Bánh Mì
The bánh mì is a favourite Vietnamese baguette filled with pate, chilli, pickled vegetables, spring onions and pork loaf or pork roast. Outside the market you'll find a tiny little mobile bánh mì stall where flurries of scooters whizz past and briefly stop to grab a small crusty baguette for the road.
Don't let appearances fool you – this store serves up an incredible bánh mì and is one of the busiest of all the hanoi street food stalls. 
Rice Paper Dumplings
Still in the area surrounding the market, exists another modest shopfront serving up a very unique Vietnamese style rice paper street dumpling.
Dumplings are so popular all around the world, and the Vietnamese version is a really nice variation on the more doughy Chinese dumplings we're used to eating.
The rice paper makes the dumpling really light and silky. Served with mushrooms and broth, these are so tasty that I had to be really careful to save room for the rest of the tour.
Grilled Meat & Honey Bread
One thing that always strikes me about Vietnamese food is the freshness. It's rare that you don't get to actually watch your meal being made in front of you when doing the street food thing and you can definitely taste the difference.
On the street food tour, our next tasting was at an unassuming BBQ grill place that had a variety of meats on skewers as well as corn, some greens and some amazing, crusty Vietnamese bread dipped in honey. Heaven.
Shaved Ice Fruit Bowl
After the pile of grilled meat we'd just consumed everyone was feeling very much on the full side (we were a few Hanoi beers down by this stage too).
The concept of eating more food seemed impossible, so I was much relieved that the next stop was a nice light bowl of local fruit, shaved ice and some condensed milk. 
This store was literally down a small alleyway and we found ourselves sitting on small plastic stools to polish off our dessert.  
Egg Coffee With A View
Finishing off the evening (completely stuffed by this stage) I followed my guide up a spiral staircase to a rooftop that looked over the Hoan Kiem Lake and the city lights.
There we ordered a traditional Vietnamese egg coffee and watched the world go by from up high.
The egg coffee is an interesting one – very fluffy and VERY sweet. If you like your coffee bitter and strong, then this is not coffee you'll be incorporating into your morning routine.
Nevertheless, definitely an interesting one to sample and very traditional in Vietnam. 
Other things to see and do near the
Đồng Xuân Market 
Train Street
Now a fairly famous Instagram site, Hanoi's incredible Train Street is located not far from the market and has to be seen to be believed. A railway track runs impossibly close to the houses and cafes that line the street and when a rumbling sound starts, everyone hops off the tracks for the train to rattle past. 
The area has become fairly overrun in recent years thanks to its immense popularity and visitors should remember that getting too close to the tracks for that perfect shot can be dangerous as trains approach. 
Water Puppet Theatre
The Thang Long Water Puppet Theatre has long been a tourist drawcard in Hanoi and is just five minutes walk from the secret cafe where the egg coffee with a view is served up. 
The water puppet art form is a Vietnamese tradition, dating back to the 11th century. The cute theatre features Vietnamese folk stories told by puppets to the sound of traditional music.
Tickets cost around 100,000 VND to watch and shows run multiple times a day. 
Hoàn Kiếm Lake
The peaceful Hoàn Kiếm Lake is the perfect place for an evening stroll once you've eaten to your heart's content. 
The lake features a red bridge that leads to the Buddhist Temple of Jade Mountain and there is also a stone pagoda way out in the centre of the lake. 
It is said that giant turtles reside in the lake, though sightings are extremely rare.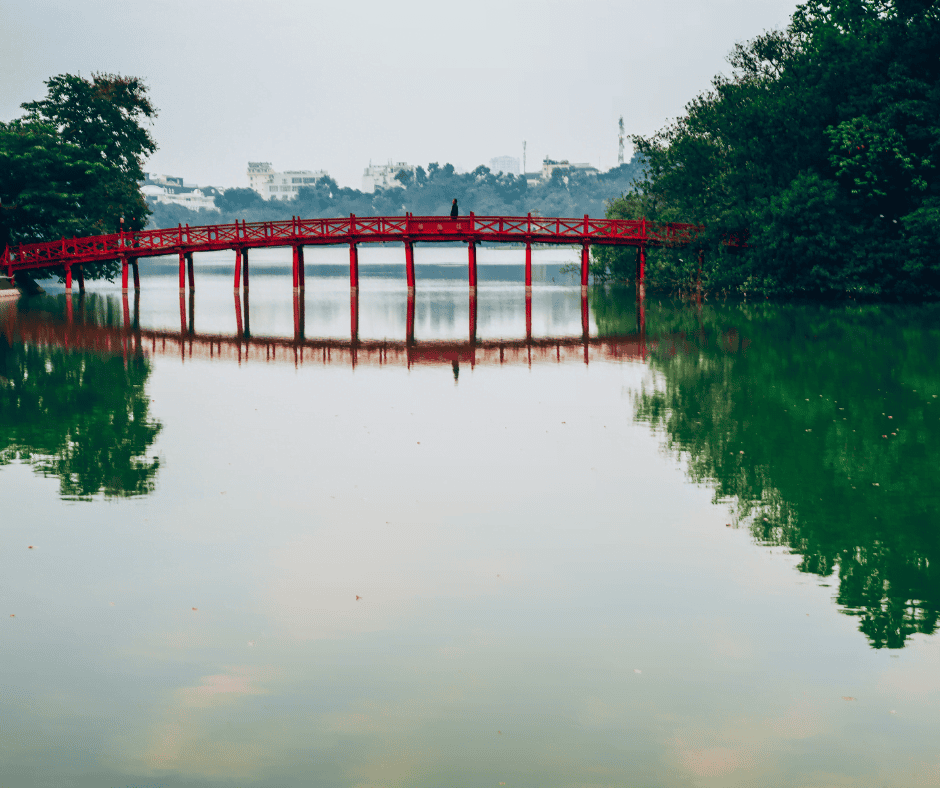 Like this post on Hanoi Street Food?
Pin to save it for later!