(Last Updated On: October 31, 2020)
What is special about this New Orleans Cemetery?
Lafayette Cemetery No.1 is a beautiful, historic and still functioning cemetery in the lush, green Garden District of New Orleans. This cemetery is the city's first planned cemetery and has been functioning as such since 1833. The Garden District is a must visit for a different side of New Orleans and it only makes sense to stop at Lafayette Cemetery No.1 for a little wander amongst this City of the Dead. 
This New Orleans cemetery is also on the list of National Register of Historic Places in the USA and is a truly unique look at the above ground burial chambers that influenced a further 30 New Orleans cemeteries to follow suit in their designs.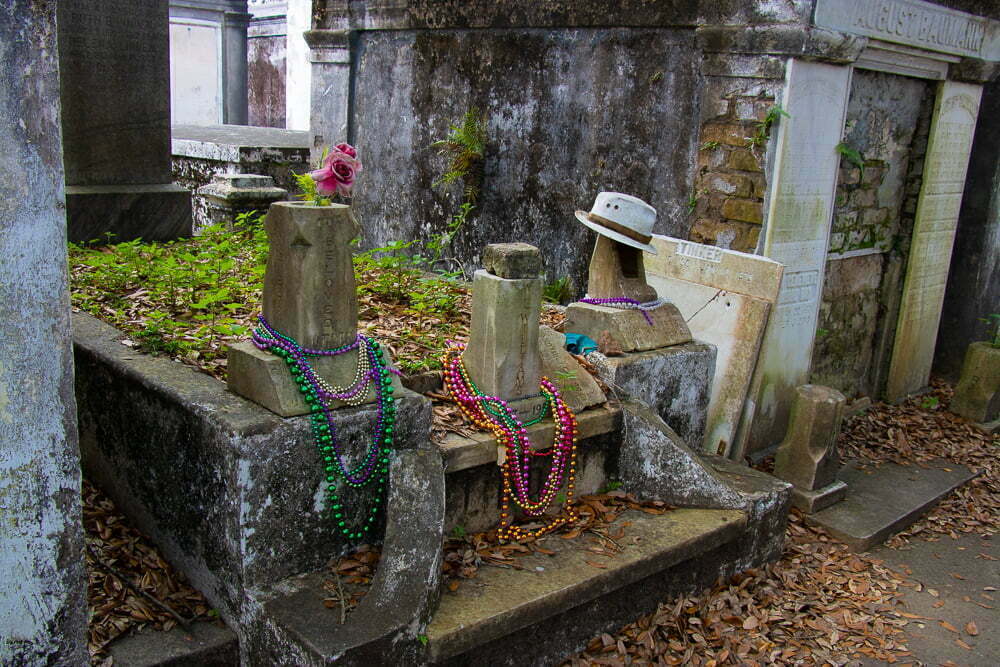 Getting to Lafayette Cemetery No.1
Walk
If you're staying in the French Quarter then a walk is going to take a while – about 50 mins to be exact. If you're not pressed for time, it's not a difficult walk and you will pass by Lafayette Square, the WWII Museum and up through the Garden District, so if time is not of the essence, then it could be a nice way to amble through the different areas in New Orleans.
Public Transport
The beautiful old New Orleans streetcars are a great option to get up to Lafayette Cemetery No.1. From the French Quarter, cross Canal Street and catch the green coloured car heading up towards the Garden District for around 15 mins, getting out at St Charles at Washington. A one-way fare will cost a mere $1.25 USD and a one-day 'Jazzy' pass costs $3 USD, so it's super affordable. If you're planning on taking the streetcar a lot during your stay, then you can also get a three-day pass for $9 USD.
Ride Share
Finally, for the people who want to go in comfort, there's rideshares everywhere in New Orleans. By car, from the French Quarter, the trip will take just under 15mins and will set you back around $10 USD. (Side Note: both Uber and Lyft are super handy apps to have downloaded when travelling in the USA, so I would recommend you use the links to grab both and just go with whichever app is offering cheaper prices).
What is the best way to explore Lafayette Cemetery No.1?
There are many different tours that help you learn about the significance and history of Lafayette Cemetery No.1, but if you're wanting to explore at your own pace, then I can recommend a super cheap audio tour via smartphone app that Matt came across when we arrived. Use this link to download Atlantis Audio Tours and check out their $2.99 Lafayette Cemetery No.1 tour which walks you through the many interesting tombs in this City of the Dead.
Alternatively, there are a number of other tours that allow you to join a group, meet other people and wander amongst the graves as a collective. I'm just a solo traveller at heart and preferred to do it in my own time. With the Atlantis app, it was super easy – I just popped in my headphones, hit start, and the app guided me through the cemetery. 
Notable Graves to see in Lafayette Cemetery No.1
Whilst the cemetery might not be abundant in famous names, there are a lot of interesting graves to see here. These include:
the Jefferson Fire Co. #22 communal tomb, which can be identified by the carved fire pump on the top,
the tomb of Confederate Army General Harry T Hays,
the Sercy tomb: a family who lost three children in two days to yellow fever in 1878,
the Odd Fellows Society communal tomb,
the empty Koenig tomb, which offers an opportunity to peek inside to see how the above ground graves are constructed,
the cast-iron built Karstendiek tomb, which was the model for Lestat's tomb in the film Interview With The Vampire,
the Earhart/Ferguson tomb, where the Judge who ruled on a landmark civil rights case is buried,
the 'Secret Garden' where four friends who are long suspected of performing anonymous acts of generosity are buried,
the New Orleans Home for Incurables tomb,
the Society for the Relief of Destitute Orphan Boys tomb, and
the Smith-Dumestre tomb – which has the most names on it in the whole cemetery at 37 names.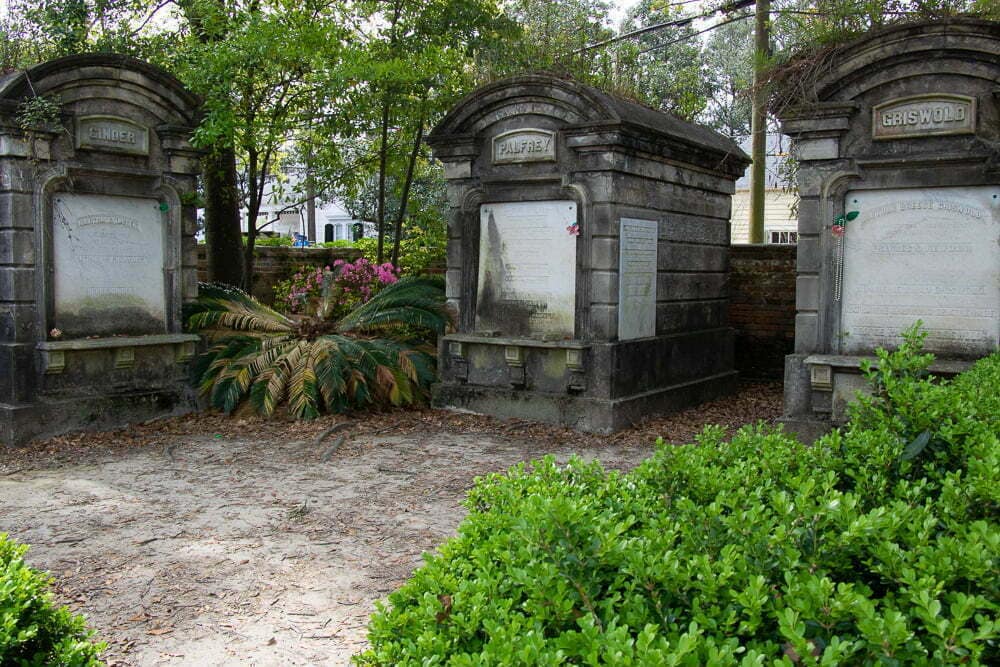 And while you're in the Garden District…
It wouldn't make sense to visit Lafayette Cemetery No.1 in the Garden District and fail to explore the beautiful sprawling houses of the area. There are some famous houses nearby the cemetery, including Interview With The Vampire author Anne Rice's house and the house used to film American Horror Story: Coven.
You don't necessarily need to be looking for any houses in particular to enjoy the grandeur of the New Orleans Garden District, but a few of my favourite addresses are below:
Joseph Carroll House at 

1315 First Street. Look out for the beautiful carriage house next to the main building (pictured above).

Brevard House at 1239 First Street. This is the house that author Anne Rice lived in when she was in New Orleans.

Buckner Mansion at 1410 Jackson Avenue. This is the house used in American Horror Story: Coven (pictured below).
Like this post? Pin to save it for later!