(Last Updated On: October 31, 2020)
Three days in New Orleans is a great amount of time to get a taste for the things that make this American city so unique and so fabulous. From the minute you arrive, it's impossible not to get caught up in the music, the food and the party vibes that make a trip to New Orleans a celebration from start to finish. That said, after three days, you'll be desperate for more and if you're anything like me, you'll be planning your trip back almost immediately. 
Day 1
Beignets at the French Market
Start your day right with the classic New Orleans snack for any time of day, the beignet. Essentially a square instead of round-shaped doughnut covered with icing sugar, this sweet treat is synonomous with New Orleans, despite originating in France.
Most visitors to NOLA head to the famous Cafe du Monde to try a beignet, but honestly, anywhere making these morsels of fried dough fresh are going to serve you up a tasty sample of the city's delicacy. Cafe du Monde can get really crowded, so a good alternative is to head to Loretta's in the French Quarter where the no-frills treats will be just as delicious.
A walk through the French Quarter
The most famous district in New Orleans has to be the iconic French Quarter. With beautiful colonial architecture and balconies flowing with lattice work and hanging greenery, this neighbourhood feels like another world from other US cities. Also known as the Vieux Carré, this part of New Orleans is where you want to be staying if you only have a short time in town.
The French Quarter is full of hotels, restaurants and, of course, music. Royal Street is a particular favourite, full of beautiful buildings, boutiques and galleries and only a stone's throw away from the madness of the infamous Bourbon Street.
Jackson Square
Located right in the centre of the French Quarter, Jackson Square is heaving with energy day or night. It's often a great spot to catch some excellent street musicians performing for tips or to encounter some tarot card readers and fortune tellers if you're after some of that New Orleans voodoo history.
The park itself is lovely too, and a great spot to perch on a sunny day and watch the day go by with a drink in hand from one of the many happy hours around the square. Bordering the square on the Bourbon Street side are three historic buildings: the St Louis Cathedral, the Cabildo (former City Hall) and the Presbytère.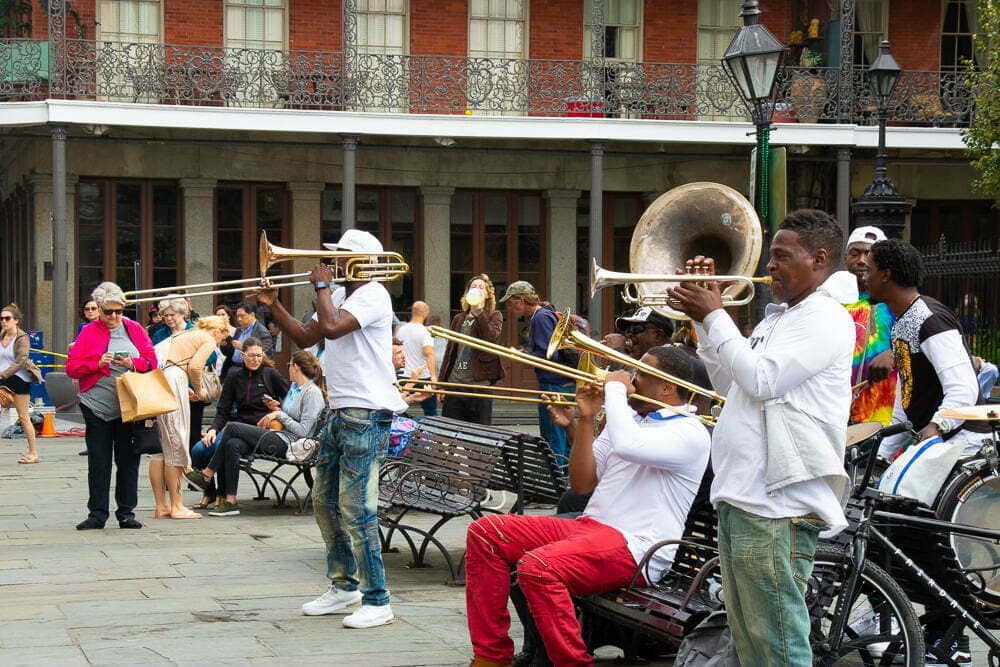 Lunch at Killer PoBoys
One of the best parts of going south in the USA is being able to experience the incredible food flavours and unique dishes so different to other parts of the country. Po'Boys are quintessential New Orleans and these meat filled baguettes were so called because they tended to be a meal for the working classes.
Today, they're enjoyed by all and Killer Po'Boys in the French Quarter has put their own spin on the traditional New Orleans sandwich, serving up an amazing fusion of flavour all day long.
Grab a drink and walk Bourbon Street
New Orleans is one of those rare cities where it is perfectly acceptable to walk around the streets drinking alcohol which is such a novelty for an Australian. Our country's liquor laws are so strict that this would never be allowed, so it's quite the treat to stroll around the French Quarter with a local tipple, the infamous Hurricane cocktail, in hand.
Bourbon Street is renowned for being the party centre of New Orleans and with an entire street lined with bars and music clubs, its easy to see the appeal. The best way to experience Bourbon Street is to wander from bar to bar until you find a band playing that you love, then get on the dancefloor and dance until you drop.
Day 2
Lafayette Cemetery No.1
Nursing a wicked hangover from a Bourbon Street party last night? Guzzle down some water and get out of bed because with only three days in New Orleans, you need to make the most of your time here. This morning we're off to explore the beautiful and eerie Lafayette Cemetery No.1 – the first ever planned cemetery in New Orleans history.
The cemetery is full of above ground graves and communal tombs, as was the fashion back in those days. It is still a functioning cemetery today – families still come here to bury their loved ones.
Explore the Garden District
For a complete change of scenery from the madness and music of Bourbon Street and the French Quarter, the Garden District is the place to be. There are so many beautiful, sprawling houses here to wander amongst. Some of my favourites include the pink Joseph Carroll House and adjoining carriage house, Anne Rice's former residence and the American Horror Story: Coven house which is an enormous blue and white mansion.
Lafayette Cemetery No.1 is located in the heart of the Garden District, so it's the perfect double attraction to kick start your day. 
Catch a historic New Orleans streetcar
The New Orleans streetcar might be rattly and a bit slow, but it is a super fun way to get around. Canal Street is usually the best spot to head to to ride the streetcar. The red colour cars take you along the waterfront and the green cars take you up towards the garden district.
A one way ticket costs $1.25 USD and a day pass, called a Jazzy Pass, will set you back $3 USD. For your full three days in New Orleans, you could get a 3 day Jazzy Pass for $9 USD and then you're set for the duration of your stay.
Eat at Marigny Brasserie
Before heading out to the jazz bars on Frenchmen Street, a hearty dinner is in order and one of my favourite spots for creole cuisine with a modern twist is the homely and contemporary Marigny Brasserie. Here, plates of red rice and beans, bowls of gumbo and sides of mac 'n' cheese with fried chicken abound and it's the perfect fuel to get ready for a night of drinking and dancing. 
Frenchmen Street
We've spent last night partying it up on Bourbon Street, but my personal favourite night time destination in New Orleans is hands down the iconic Frenchmen Street. It's less-touristy, more local vibe makes it perfect for a great night out and whilst music is everywhere in the city, Frenchmen Street is THE destination for great jazz.
There are several great bars on the street for music and my favourites are: The Spotted Cat, The Apple Barrel and Cafe Negril. These bars tend to have no cover charge and simply require you to buy a drink on entry as band after band hops onstage to entertain. 
Day 3
Coffee from Spitfire Coffee
Good coffee in the USA can be notoriously hard to find if your idea of great coffee is a frothy, smooth latte. I managed to find what I believe is the best latte in New Orleans at this little hole in the wall store in the French Quarter called Spitfire Coffee.
These guys are artisan coffee roasters making specialty coffees all day long, but be warned that there are only four seats in the shop, so you're best to grab one to go and head over to Jackson Square to drink it in peace.
See where Tennessee Williams wrote A Streetcar Named Desire
If you're grabbing a latte from Spitfire Coffee, then a quick walk across the street will take you to the very building where Tennessee Williams wrote his incredible play, A Streetcar Named Desire in 1947. The play is set in the French Quarter of New Orleans and though you're not able to go in and have a look around where the play was written, there is a plaque on the outside of the building commemorating and marking the spot.
Walk around Faubourg Marigny
One of the prettiest neighbourhoods on the outskirts of the French Quarter is the gorgeously picturesque Faubourg Marigny. The houses here are show off French colonial architecture, with smatterings of Carribbean and Spanish influence. The area used to be plantation land, but in 1805, owner Bernard Marigny dismantled the plantation and sold it off in lots. It's one of the most colourful areas in New Orleans.
Visit Mardi Gras World
Three days in New Orleans wouldn't be complete without getting into the Mardi Gras spirit and there's no better place to get a behind the scenes look than at Blaine Kern's Mardi Gras World. This studio tour in the Port of New Orleans offers a sneak peek at the floats, props and costumes that make up the amazing, vibrant parades of Mardi Gras that the city is famous for.
The studio tour takes around 60 mins and following the formal tour, guests are free to wander amongst the workshops to see the painters and sculptors in action. The tour also includes a slice of King Cake (a Mardi Gras special) and if you're lucky you might score some Mardi Gras beads, too.
Take your pick: Bourbon St or Frenchmen for your last night!
For my money, I'd be headed back to check out the jazz scene on Frenchmen Street again, but anywhere there's music is a great place to spend your last night in New Orleans. Enjoy one last night drinking and dancing in the most fun city in the USA.
Like this post? Pin to save it for later!