(Last Updated On: June 15, 2021)
I write this with sand between my toes, salt in my hair and a heart full of love. Goa seems to have that effect on people. There are so many things to do in Goa, but right now, I'm loving the ease of lazing around on the sandy shores of the beach.
I'm here in Southern India in my very own version of Eat, Pray, Love – escaping tragedy, a relationship breakdown and feeling very lost.
I guess I came to Goa searching for answers and direction. Or maybe it was to recharge and find a new lease on life. Either way, the simplicity of drinking long neck Kingfisher beers on a quiet spot of sand alternating between baking and running into the water to cool off just about hits the spot.
Solo Travel Tip: India can be daunting for solo travellers, especially women. I always felt safe, but did have a few moments of feeling uncomfortable on my travels.
If you are feeling unsure of yourself, then Intrepid Travel are excellent for small group tours that always feel intimate and local. Their Delhi to Goa trip would be perfect for someone wanting to see the sights of this amazing country as part of a group of fellow travellers.
I've done quite a few of their tours through India and Nepal, Jordan, Spain and Cambodia and have always been really impressed with how intimate they are. 
Disclosure:  This post may contain affiliate links. I only recommend products or services I would use myself and all opinions expressed here are my own. If you use these links to buy something, I may earn a commission at no extra cost to you. Thanks for your continued support.
Where to stay in Goa
Goa has plenty of variety when it comes to accommodation, from the super luxe to the very very budget. Calangute is the centre of Goa, so I'd recommend staying around this area – particularly if you're a first timer.
I'm staying at the Hilton nearby to Calangute in neighbouring Candolim which is packed full of restaurants and stalls and the beach just a stone's throw away. Another great choice for accommodation in the area is The Amrit (also in Candolim).
How to get to Goa
Fly
Goa features an international airport, located to the south of Calangute. Serviced by local and foreign carriers, the airport is around an hour-long drive from the heart of Goa or over two hours by public transport.
A taxi or private transfer is basically the only option to make your way into Goa and will set you back between 1200 and 1300 INR (20 – 23 AUD/ 17 USD). Just be sure to agree on the fare before you get in the taxi to ensure that you don't get taken advantage of.
Public Transport
From northern India, for example New Delhi, you're truly better to fly rather than attempt driving or public transit as it will take you over a day to make it to your destination. If you wanted to attempt it, then you'll need to get a train from Hazrat Nizamuddin Delhi station and travel 23 hours to Thivim where you'll need to get the bus towards Panaji, get out at Mapusa and change for the Calangute route.
If you were down south in Kerala, then get the train from Ernakulam Junction and change at Madgaon Junction bound for Thivim. From here, grab the bus headed for Calangute. You're still better to fly, though as the trip will take around 18.5 hours.  
Things to do in Goa
Enjoy the beaches
The best thing to do in Goa is surely to relax at the many white sandy beaches that this part of India has to offer. Take a book down to the water, set yourself up on a day bed and order a cool drink whilst you take in the ocean under the sun. When you feel the need, abandon the book and run straight down to the inviting water and dive in to cool off. Rinse and repeat all day long.
The best beaches are located at Candolim and Calangute, which is why it is a great idea to base yourself around these areas. Majorda in southern Goa is also renowned for its beauty and Baga in the north has a great array of beach huts to peruse.
Spot the cows
Cows have kind of a free reign in India and Goa is no exception. There's nowhere else in the world that I've ever seen cows walking on a beach dipping their hooves in the water as they go. They also wander in and stick their heads into cafes and restaurants on occasion.
It's definitely a unique experience that reminds you you're a long way from home.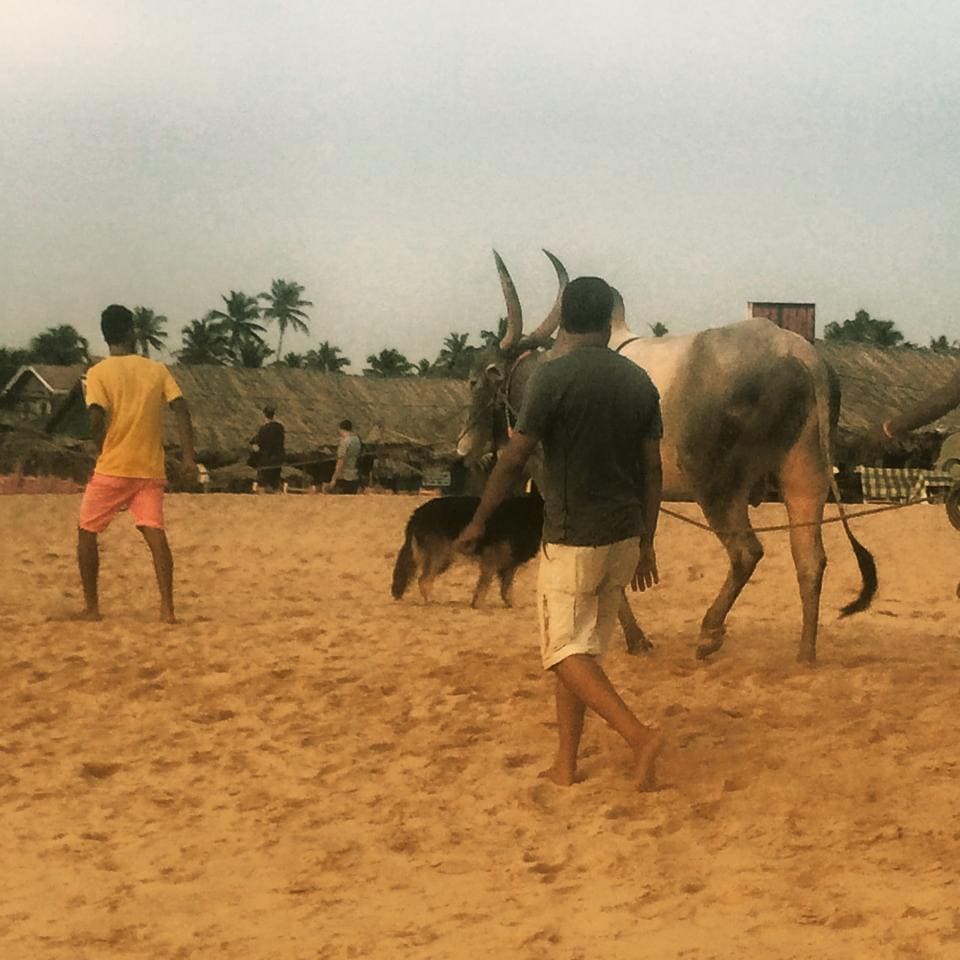 Check out the Calangute Market
Every Saturday, the Calangute market square buzzes with a huge range of fresh produce, souvenirs, pottery and local jewellery. There's even a section of the market square that contains a Tibetan market, peddling spiritual statues.
Get your best bartering game face on and go out ready to negotiate the best price. It's always good fun, too, once you get the hang of the game and you can snatch a real bargain! Bargaining at a local market – now that is definitely one of the best things to do in Goa. 
Liked reading about the best things to do in Goa?
Pin to save it for later!