(Last Updated On: October 31, 2020)
Crisp white snow and cottage-like rustic homes with large plots of land covered in frozen trees welcome me to the tiny town of Schomberg in Ontario, Canada. The car trip from Toronto airport has been magical, as I sit in the comfort of a heated vehicle whilst snow falls steadily outside. This is totally new to me. It never snows where I live in Australia and if it did, then all of Sydney would surely grind to a halt, unable to cope with the weather phenomenon. The closest snow to me is an occasional dusting about 2 hours drive away in the Blue Mountains, and even then the briefest snow sends the mountains into lockdown.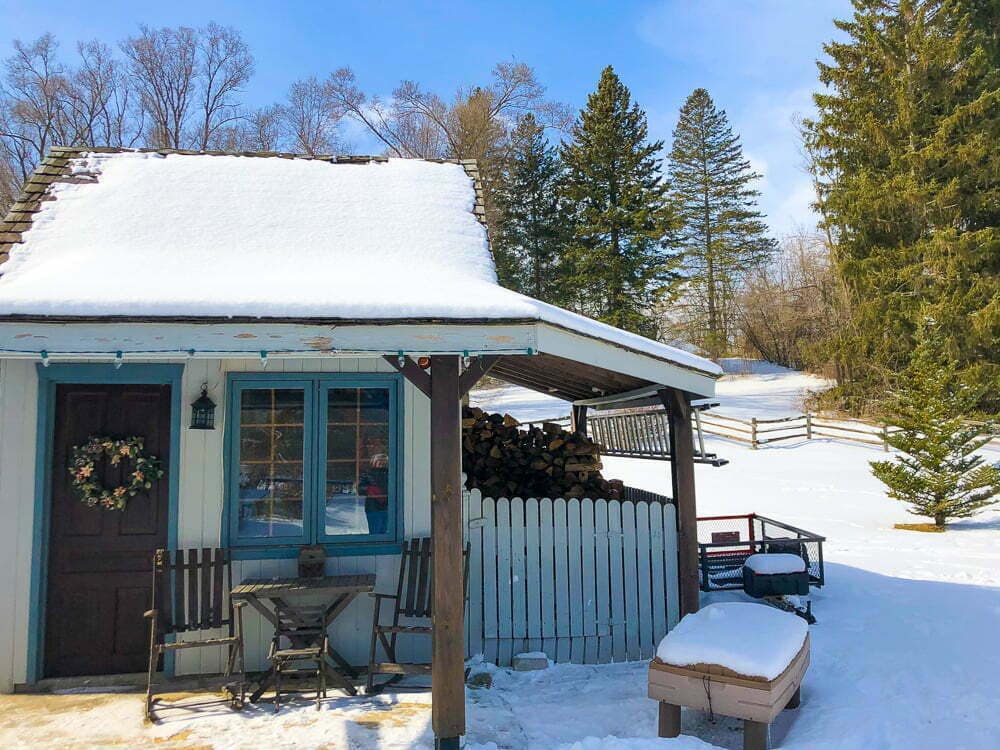 But here I am, about as far from Sydney as its possible to go, in the depths of the Canadian winter about forty minutes out from Toronto. And I've just met the Canadian arm of my partner's family for the first time. We flew into Toronto from Chicago this morning and our first stop after disembarking our Air Canada flight was in Mississauga, to see Matt's grand-aunt who he hadn't seen for many years. This was my first trip to Canada and my first time meeting the Canadian-Maltese side of his family, who luckily happen to be some of the warmest and most giving people I know. We were greeted with huge hugs, pastizzi and coffee as is the Maltese way and face-timed his Nanu (Maltese for Grandfather) so he could see all of us together in Canada. 
Now Canadians have a reputation for being some of the nicest people in the world anyway, but when its family, they're even more incredible. Matt and I are being hosted in Schomberg by his family and they're currently driving us through some of the most picturesque scenery I've ever seen. They're sick of the snow and are ready for it to start warming up, but I'm utterly transfixed by the tiny snowflakes falling from the sky as if talcum powder is being shaken from the sky.
So, Schomberg might be the prettiest town you've never heard of. Once populated by First Nations peoples, this village on the outskirts of King, Ontario, is home to less than 3000 people. Settlers arrived in 1830 and set up the town, originally called Brownsville, renamed Schomberg in 1862. It's the kind of town where neighbours would still walk to your door if they'd run out of flour to see if they could borrow a cup, rather than hoofing it to the nearest supermarket.
I know this because after spending an evening watching the snow fall by a roaring open fire with a glass of full bodied red wine in hand, we awake to the perfect morning for laying sled tracks into the pristine white hills. Instead of seeking out the nearest ski fields, we simply wander across the road to the neighbour's house and ask if we can christen their hill with our sled. 
Now sledding is super fun. Until, after the ten seconds of utter freedom and abandon that comes with throwing yourself down a hill at pace, you realise you've now got to drag the entire contraption back up the hill on foot for the eagerly awaiting next rider. When that next rider is an over-enthusiastic three year old, taking it slow isn't an option, so a lot of breathless moments are had, hustling back up the Schomberg hills.
After we're all well and truly puffed and can sled no more, it's time to say goodbye to this beautiful part of the world and goodbye to new friends and family members. The Canadian winter might be perishingly cold, but this Aussie adventurer has definitely been able to live her winter wonderland fantasy here in Schomberg. 
Fast Facts about Schomberg, Ontario
Getting to Schomberg is tricky as there is no public transport. It's about 40-50 mins in a car from Toronto.
Schomberg's population is less than 3000 people
The town was founded in 1830 by Irish settlers who'd emigrated from the USA
Schomberg was originally called Brownsville
The name changed to Schomberg because the locals weren't able to open a local post office with the name Brownsville