(Last Updated On: April 16, 2023)
Brussels is sometimes slightly overlooked compared to some other European capitals, but it has a lot to offer with its Parisian style and beautiful architecture. It's also a great jumping off point to explore other amazing cities and towns in Belgium, like Flanders Fields and Bruges. Brussels is also super accessible to the rest of Western Europe with Thalys rail services connecting Brussels, Paris, Amsterdam amongst many others. Here's my favourite things to do in Brussels.
Disclosure:  This post may contain affiliate links. I only recommend products or services I would use myself and all opinions expressed here are my own. If you use these links to buy something, I may earn a commission at no extra cost to you. Thanks for your continued support.
Visit the UNESCO World Heritage listed Grand Place de Bruxelles
The top thing to do I'm sure on most people's things to do in Brussels hit list is to visit the majestic Grand Place, full of guild houses trimmed with gold. At sunset, the square appears to be made of gold. The Grande Place or Grote Markt is still the central meeting point for tourists and locals alike, and many festivals are held throughout the year with a big stage in the middle of the square. 
I was so lucky when I got there as the Brussels Jazz Weekend was on, so my introduction to the Grand Place was sipping a beer in the sun while the sounds of jazz filled the air!
Learn how to brew and pair Belgian beers with your meal
Who knew that beer can be paired with your meal, just as you would wine? Well luckily the folks at Brasserie 28 and Brew Spot are experts when it comes to cooking up a storm and finding the perfect beer to match.
Brew Spot hold brewing classes where the super knowledgeable brewers take you through the whole process – it will give you a whole new appreciation for beer and what goes into making it.
Eat a gourmet meal on the Tram Experience
How good can food on a tram really be? Well Brussels takes the cake for amazing cuisine able to be cooked up and plated in a tiny, bumpy and rattly space. Whilst most tram restaurants I've been on before present stock standard food that wouldn't feel out of place at a wedding or even on an aeroplane, the Brussels Tram Experience is utterly gourmet.
Enlisting the help of a Michelin hatted chef, this degustation is fresh, sumptuous and full of flavour from entrée right through to dessert as the tram circles the city of Brussels.
Relax in the sun at Le Botanique
If you're lucky enough to have beautiful weather in Brussels, a trip to Le Botanique is in order. Amble through the paths to find sculptures hidden in the bushes, wander the manicured hedges and marvel at the greenhouses that make a perfectly Instagrammable spot to take some time out.
Eat a Belgian Waffle
How could you visit Belgium without eating a Belgian waffle? My favourite is Mokafe, located in the beautiful setting of Galeries-Royales Saint-Hubert. The locals like their waffles plain, topped with icing sugar, but my go to is some fresh strawberries and some ice-cream on the side.
Stay in a unique or boutique hotel
If you're like me and you'd like to stay a little out of the main tourist centre, then I highly recommend staying near the Sablon area. The Zoom Hotel is a great choice for solo or couple travellers as it employs a cool and innovative design with industrial chic décor. The rooms are all different and all the items in each room are for sale, so if you love something, you can take it home with you.
Finding an unique hotel is one of the things to do in Brussels that can absolutely make or break a holiday, so it's important to get this bit right!
Explore the Galeries Royales Saint-Hubert
This old shopping arcade makes a very special setting to enjoy a waffle, shop or try some speculoose ice-cream. The arcade also boasts a super old chocolaterie still in its original apothecary designed state and the Belgian haute couture of chocolate – Pierre Marcolini, whose creations take chocolate enjoyment to a whole new level. There's a reason why this spot is one of my favourite things to do in Brussels!
Take a walking tour with Bruxelles Bavard
This awesome tour company takes you in and around the sights of central Brussels without it ever feeling super touristy. Taste the original beer recipe at La Becasse, where the beer tastes almost like cider and is bought in large pitchers to share. See locals intensely playing chess in the Halles de Saint-Gery. See some incredibly well-hidden art deco design that you'd never find on your own unless you stumbled scross it by accident. No matter what you enjoy, these guys have something to whet your appetite.
Eat an Instagram-worthy breakfast at StreetPecker
Ok, so there are less-healthy options there as well, but these guys do a wicked selection of smoothie bowls that help you start your day off right. After a night out at the Jazz Weekend in the Grand Place, this healthy breakfast helped me recharge. They also serve up a mean café latte. Being from Melbourne originally, I'm a super fan of good coffee and Belgium surprised me with a few gems like this that served up coffee like home.
Take a day trip to another country
I know that this is kind of cheating in an article called Things to Do in Brussels, but this city is SO connected to the rest of Europe. Country hop for a day with high speed rail company Thalys, who can get you to Paris in under an hour and a half OR Amsterdam or Cologne in under 3 hours.
Thanks to their super rail network across Germany, Amsterdam, France and Belgium, you're able to make a base for yourself in Brussels and then day trip around to experience a different European country. My record is 3 countries in a day: Breakfast in Brussels, Lunch in Cologne and dinner in Paris.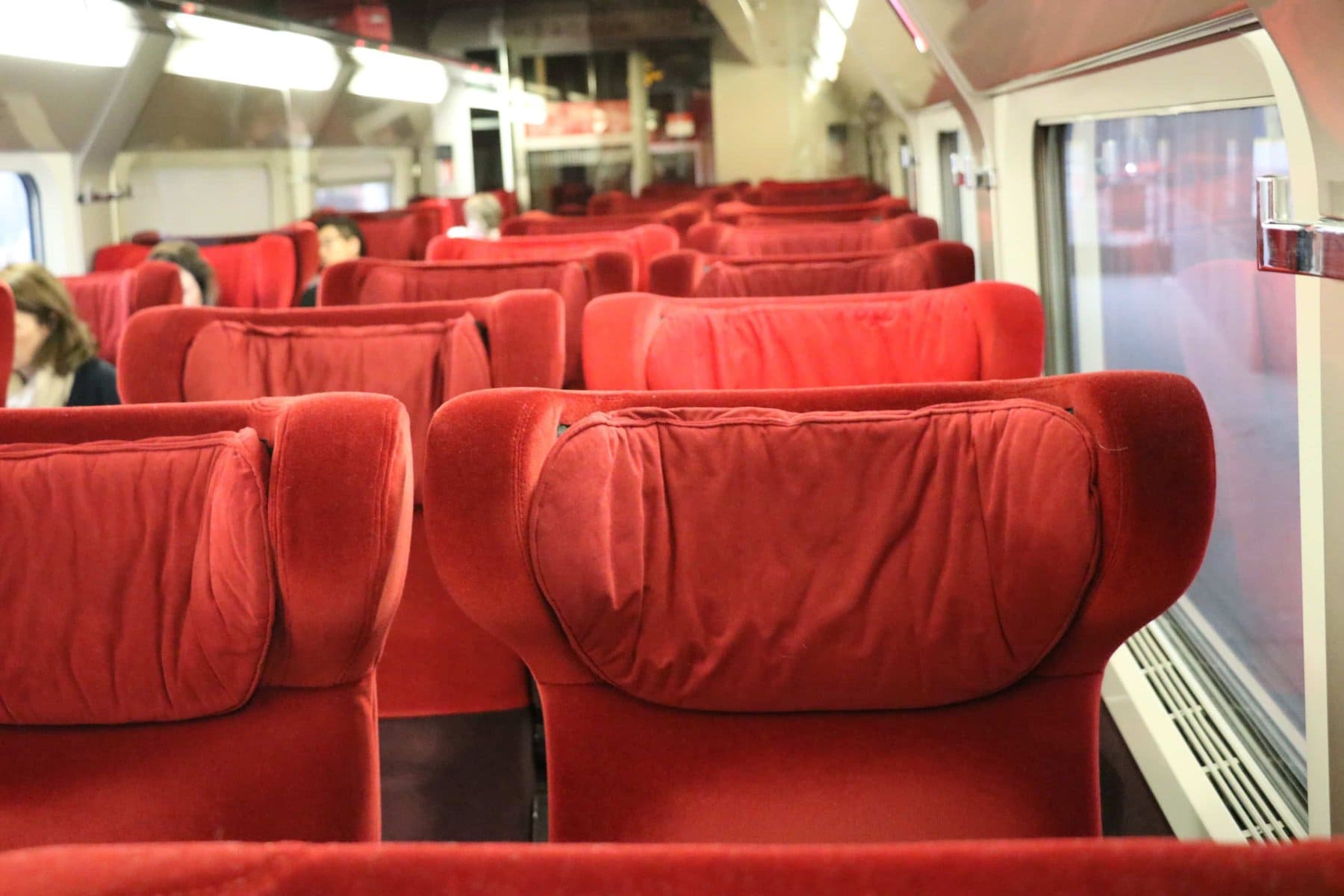 Like this post? Pin to save it for later!