(Last Updated On: June 23, 2021)
Where in the world can you go right back in time to a picturesque medieval village surrounded by tree lined canals whilst bells still ring out across the town to chime the hour? A trip to Bruges is only an hour's train ride from Brussels and it is the perfect place to live out your fairy tale fantasies.
The UNESCO World Heritage Listed town of Bruges is gorgeous, friendly and full year round with tourists. And for good reason, too. Bruges is just so darn quaint and beautiful.
Disclosure:  This post may contain affiliate links. I only recommend products or services I would use myself and all opinions expressed here are my own. If you use these links to buy something, I may earn a commission at no extra cost to you. Thanks for your continued support.
How to get to Bruges
Drive
Bruges is easily accessible from Brussels via car on a route that takes you out towards the Belgian coast via Ghent (also worth a visit if you have time).
The drive is an easy one, taking a just over an hour to make the trip to Bruges. The trip from Antwerp will take roughly the same amount of time, so either of these major Belgian cities are good jumping off points to get to Bruges.
Train
My absolute preferred mode of transport in Europe is the train. I love being able to hop on a train and spend my time gazing out the window, crossing country borders. Bruges is serviced by railway lines from both Brussels and Antwerp.
The trip from Brussels will take visitors via Ghent station and will last just over an hour. From Antwerp, the journey can stretch closer to two hours and also goes via Ghent. The train ride will cost around 15 euros. 
Where to stay in Bruges
Bruges has the full range of accommodation options from friendly, beer-loving hostels to more upmarket hotel options. Hostel Lybeer is perfect for those looking for dorm-style accommodation and the Duke's Palace is great for a more luxe stay.
Either way, try to locate yourself in the old town, near Market Square as this is the historic centre of the city and where you'll likely want to spend your time.
Things to do in Bruges
The Belfry of Bruges
One of the town's most iconic sights has to be the towering Bruges Belfry that chimes out the hour to this day. The Belfort was added to the surrounds of the Market Square way back in 1240, but had to be rebuilt in 1280 when it burned down.
A visit up to the top of the tower is possible by climbing 366 steps – a task that will leave even the fittest breathless by the time they reach the pinnacle. The views at the top, however, are well worth the physical exhaustion.
Take a canal cruise
Bruges is surrounded by a canal network and though it's not as large or as complex as Amsterdam's, the gorgeous red and yellow Autumn leaves and fairytale bridges make you feel like you're living in a story book.
For 8 euros you can take an open topped boat (along with twenty other tourists) and travel through the different sections of the canals – keep an eye out for the little red doors on the buildings along the canals that open up straight onto the water.
Although it's a pretty crowded exercise and the boats can get quite cramped, the boat rides are still a nice way to see Bruges from the water and reminisce about the time that the city was an important medieval port.
Bruges Beer Experience
Just off the main square is the Bruges Beer Experience museum so that you can wash away your stair-climbing fatigue with a local beer tasting and education session on what makes Belgian beer so special. 
Here, you'll learn all about the brewing experience, what ingredients make up a great beer, how to pair beer with food and the history of beer in Bruges. At the end of the museum experience, visitors can stop in for a tasting paddle of a few different beer varieties to test out their new found knowledge. 
Entry costs 16 euros (including a taster) and 10 euros without. 
Experience the Historium
The Historium is a wacky and weird multi-faceted journey through medieval Bruges told through the eyes of a young painter's apprentice. Perfect for kids who might not want to read about the history of the city, The Historium an entertaining way to immerse yourself in the city's medieval past.
Though it may be a little kitschy in parts, it is definitely a fun experience and a different way to view history.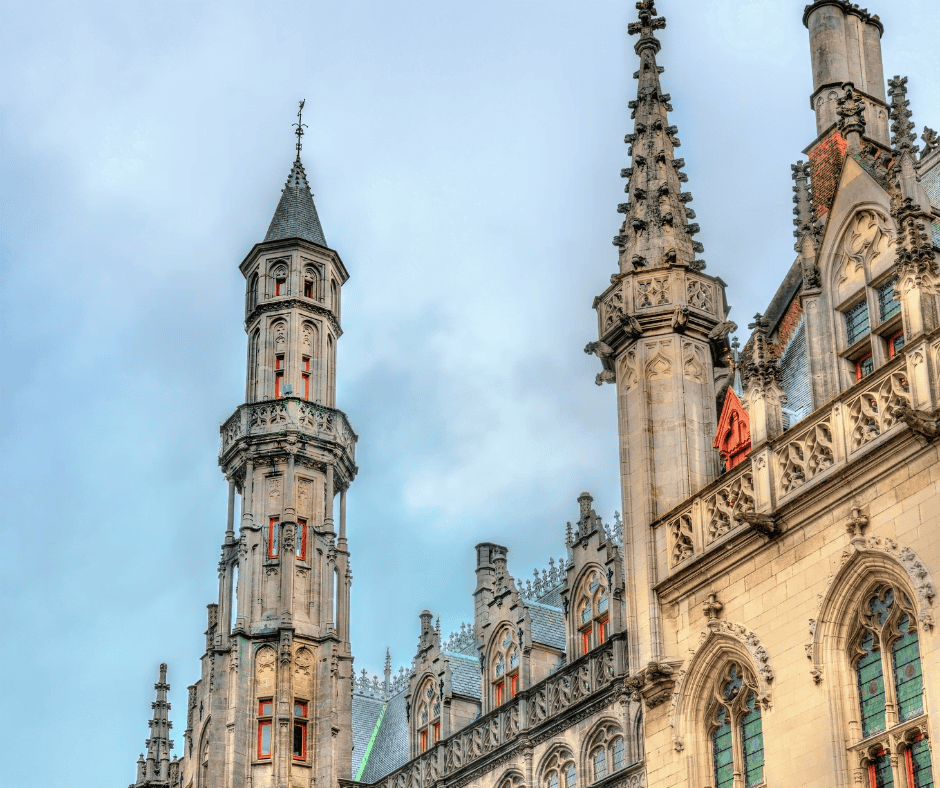 Wander the historic streets
There are definitely activities galore in Bruges, but the real delight in this quaint village is wandering the cobbled streets, marvelling at the pointy, dutch-style rooftops and medieval architecture and discovering little hidden chocolateries, microbreweries, markets and in one instance a community garden growing in a dilapidated, half collapsed house.
It is necessary to contend with the multitudes of tourists and can be expensive, but there is so much street food at your fingertips with frites and waffle stands everywhere. At the base of the Belfort are two Belgian frites stands who are in constant competition with each other. Try the frites with joppiesaus (pepper sauce).
There's also an entire store just devoted to Christmas which is a great place to grab presents or tree decorations for back home.
Do a day tour of the Flanders region
Bruges is actually located right near the Flanders Fields region that suffered so much in World War One. If you have time, a day tour to Flanders Fields is well worth it and history buffs will absolutely love it. 
The day tours pick up visitors from their hotels in Bruges and transport them to several significant destinations in the Flanders region, including Tyne Cot Cemetery, Hill 60, the Menin Gate and the Flanders Fields museum amongst others. 
The whole day is incredibly moving and sobering, but nevertheless a very important learning experience.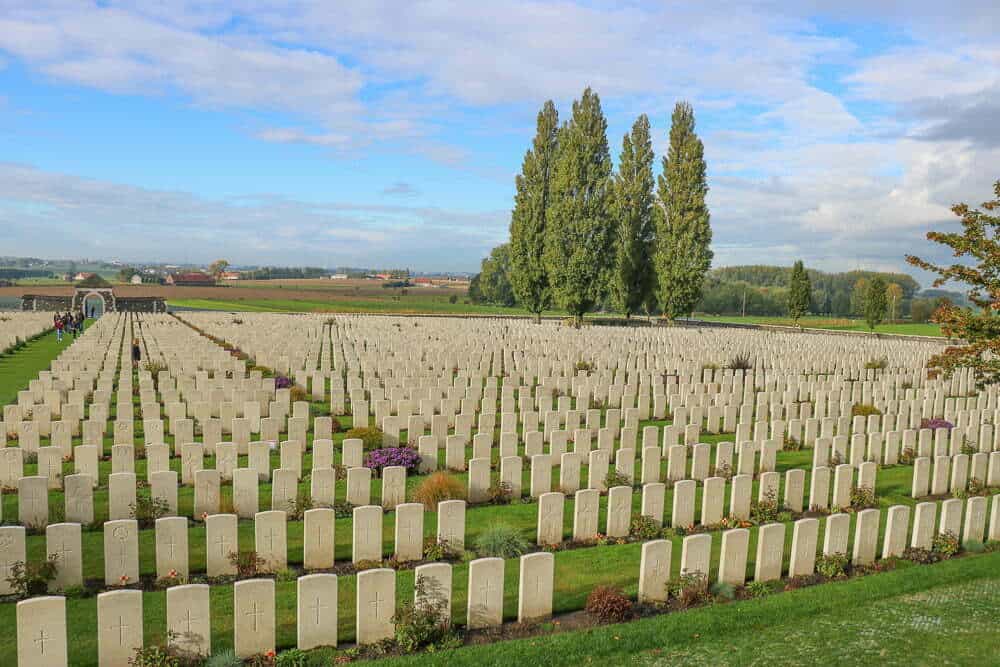 Like this post on taking a trip to Bruges?
Pin to save it for later!