(Last Updated On: May 13, 2023)
Kangaroo Island 3 Day Itinerary
Guest post by Olivia from Defining Decade
After the best Kangaroo Island Itinerary for 3 days? You've come to the right place! 
Kangaroo Island, located off the coast of South Australia, is a breathtakingly beautiful destination that should be on your Australian bucket list.
With its pristine beaches, rugged coastlines, and picturesque attractions, it's no wonder that this island has become one of Australia's most popular tourist destinations. 
But with so much to see and do, planning the perfect 3-day Kangaroo Island itinerary can be overwhelming.
That's why I've put together the perfect Kangaroo Island itinerary for 3 days to help you make the most of your time on the island.
From visiting Kangaroo Island iconic landmarks to experiencing the island's natural wonders and tasting fine wines, this itinerary has it all. 
So, pack your bags and get ready for an unforgettable adventure!
Disclosure:  This post may contain affiliate links. I only recommend products or services I would use myself and all opinions expressed here are my own. If you use these links to buy something, I may earn a commission at no extra cost to you. Thanks for your continued support.
How to Get to Kangaroo Island
To get to Kangaroo Island from Adelaide city/airport, you will need to drive about 1hr 30mins to Cape Jervis to catch the Sealink ferry across. Be sure to book the ferry well in advance, particularly if you are travelling during the summertime and are taking a car across as it books up fast! 
The ferry is about a 45-minute trip and will drop you off at Penneshaw. 
From there, I recommend you stay in Kingscote due to the range of accommodation, shopping and dining options. 
Kingscote is about a 45-minute drive from Penneshaw. A long travel day but it is definitely worth it once you arrive. 
I highly recommend renting a car when travelling around Kangaroo Island. The roads vary but are generally suitable to drive without a 4-wheel drive. I rented a small economy car from Sixt and it was perfect for a solo road trip!
Kangaroo Island Itinerary 3 Days
Onto my ultimate Kangaroo Island Itinerary in 3 days!
Day 1: Emu Bay, Stokes Bay, Bay of Shoals
Ferry to the Island
Take an early ferry from Cape Jervis to Kangaroo Island. The ferry departs as early as 7 am on weekdays and 9 am on weekends. 
Pennington Bay
When you arrive take a 25-minute drive to the gorgeous Pennington Bay. This will be the perfect first taste of the incredible scenery on the island. Soak in the view, lay by the beach and go for a dip! 
Kangaroo Island Brewery
After spending a couple of hours at Pennington Bay and as lunchtime approaches, take a 30-minute drive to Kangaroo Island Brewery for a cold brew and a bite to eat. If it's the weekend they have delicious pizzas you need to try! 
Stokes Bay
Now it's time to head to Australia's top-rated beach in 2023, Stokes Bay!  Stokes Bay is a secluded gem on the north coast of Kangaroo Island. When you first arrive at Stokes Bay you may be underwhelmed, I know I was! 
But as you walk through the cave-like tunnel to find the pristine Stokes Bay beach it will take your breath away. With white sands, rock pools, and crystal-clear water, it's the perfect combination for a relaxing beach spot.
Emu Bay
Whilst you're on the north coast and on your way to Kingscote, stop in at Emu Bay Beach. Emu Bay Beach is another popular beach on Kangaroo Island that boasts long shorelines and clear blue waters. It is also a great spot for camping if that's your travel style! 
Bay of Shoals Winery
By now it's been a pretty jam-packed first day! I'm sure you are starting to get a little thirsty for a glass of wine. 
What better place to enjoy an afternoon vino than Bay of Shoals Winery? Probably one of the most gorgeous wineries I have visited, Bay of Shoals is as much about the wine as it is about the serene atmosphere. 
A winery with coastal views, does it get much better?! 
Grab a tasting paddle and head out into the gardens to soak in the Kangaroo Island scenery.
Check in to your hotel
Head to your accommodation in Kingscote, grab some dinner at a local restaurant and get a good night's sleep.
Tomorrow is another jam-packed day of adventure!
Day 1 Kangaroo Island Itinerary Map
Day 2: Flinders National Park, Kelly Hill Caves, Little Sahra 
Breakfast at So Sando
Start day 2 on Kangaroo Island with a delicious toasted sandwich and coffee at So Sando in Kingscote. One of the best cafes on the island, you must try their eggs on toast, they are next level! 
Make sure to grab some snacks and a bite to eat for lunch on the road as we won't be stopping. Head to Drakes to grab a cheese and bacon roll, some fruit and a nut bar to keep you going.
Seal Bay 
Now that you are fuelled up for the day, take a 45-minute drive to Seal Bay to kick off your day of sightseeing.
Take a guided tour to actually get onto the beach and see the seals up close or purchase a self-guided tour that takes you along the boardwalk. I opted for the self-guided tour so I could explore Seal Bay at my own pace and I personally didn't feel I missed out on anything. Plus I saved a few bucks to spend on gin tastings in the afternoon! The boardwalk entry costs $16.5 and the guided tour costs $37. 
When I visited there were loads of seals and pups spread across the beach sunbaking. An incredible sight you don't see every day.
Kelly Hill Caves Tours
Hop back in the car and drive another 20 minutes west to Kelly Hill Caves.
If you are a fast-paced traveller like me and like to jam a lot into your day, continue to Kelly Hill Caves. But if you prefer to have a sleep-in and take it slower, I would skip this next activity. 
Leave your claustrophobia at the entrance and journey underground to see the surreal formations and learn about the history of cave exploration. 
Take a set of VERY steep stairs down to the cave with a tour guide, currently as of 2023 you can only access the caves in a tour run by the National Park that goes for about 45 minutes to 1 hour and costs $22. 
On the tour, you will be provided with a head torch to get up close to the rock formations in the cave. The tour guides will take you through the discovery of the caves, caving by candlelight, the naming of rocks and much more. 
Make sure to book your tour in advance!
Flinders National Park: Admirals Arches, Weirs Cove, Remarkable Rocks
After your tour, drive 15 minutes west to Flinders Chase National Park. 
Flinders Chase has loads on offer, prepare to spend a few hours visiting a range of attractions including the Remarkable Rocks, Admirals Arches, Weirs Cove Ruins Lookout and of course, seal spotting.
When you enter the national park you will arrive at a car park where you can either scan the QR code in the car park to pay your entry fee (Adult price: $12.50) or head to the visitor centre. Once you have paid, hop back into the car and follow the road and signs for about 15- 20 minutes. The first turn-off is the Remarkable Rocks. 
Take some photos of the rocks and enjoy exploring the remarkable granite boulders before hopping back in the car to drive to the next stop, Weirs Cove. 
I almost didn't even take the turn-off to Weirs Cove as I wasn't sure what it was. I can tell you now it is absolutely worth the stop to see a breathtaking view of the two-toned turquoise waters. One of my favourite photos from my trip was taken here, just see how spectacular it is! 
The last but by no means least stop is Admirals Arches, a natural rock formation that is simply gorgeous.
The short journey down to the arches is just as magical as the destination. The boardwalk beautifully shows off the rugged Kangaroo Island coastline with plenty of spots to stop and take in the view or even spot some seals chilling on the rocks. 
Once you get to the bottom, spot seals and pups lazing on the rocks and watch the waves crash among the arches.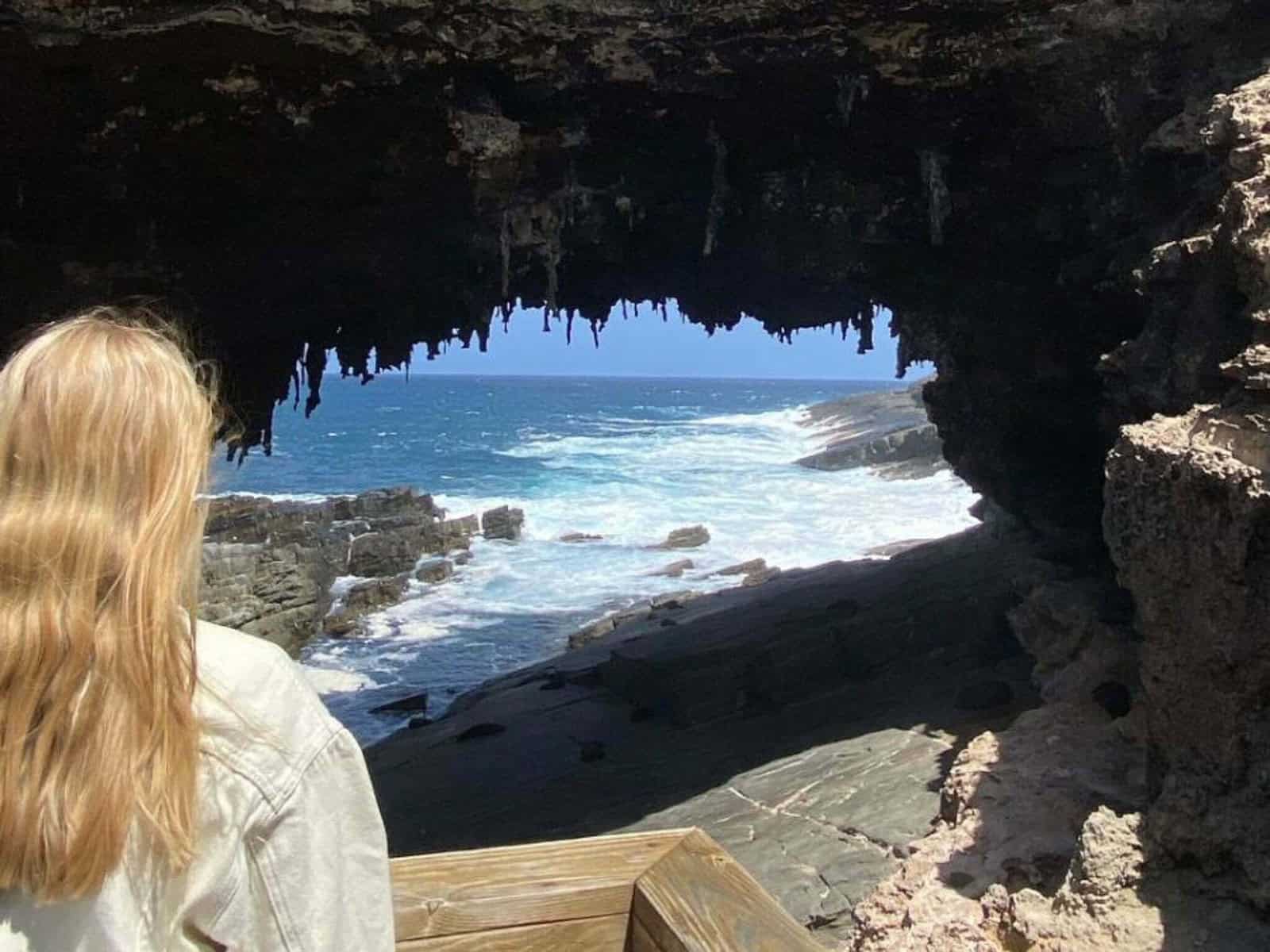 Kangaroo Island Spirits 
What a day! Today you have covered a lot of ground, so why not treat yourself to a gin-tasting paddle at Kangaroo Island Spirits to relax? It's on the way back to Kingscote after all…
Day 2 Kangaroo Island Itinerary Map
Day 3: Vivonne Bay, Neapan Bay, Penneshaw
Rabbit Warren Bakery
Today is the final day of your Kangaroo Island 3-day itinerary! 
Head over to Rabbit Warren bakery for a breakfast pastry and to pick up a sandwich for lunch on the go. 
Nepean Bay
After checking out of your accommodation, drive for 25 minutes to the hidden gem, Neapan Bay.
Funny story I actually found Neapan Bay when I was road-tripping and needed to stop for a quick bathroom break. 
If beach waves aren't your thing but you still want to go for a dip, Neapan Bay is for you. 
Penneshaw Beach
When you are ready to move on, take a little over a 30-minute drive to Penneshaw Beach.
The perfect place to have a lunch picnic with the sandwiches you grabbed at breakfast time. 
As your trip comes to an end, soak in every last second as you bask on the beach. 
Penneshaw Winery – False Cape
If you are sunned out and have some more time to kill before hopping on your ferry home, head to False Cape winery for a delicious tasting platter of wine and perhaps a cheese platter.
The winery is a gorgeous place nestled amongst the vineyard and gum trees on the picturesque Willson River.
I loved my final moments on Kangaroo Island spent at False Cape, the perfect end to my trip.
Ferry home
Jump on the ferry at Penneshaw to head back to Cape Jervis and Adelaide city. 
Day 3 Kangaroo Island Itinerary Map
Where to Stay on Kangaroo Island 
As mentioned early, I recommend you stay in Kingscote as there are cafes, restaurants, a petrol station and a grocery store to get you by.
There is a Drakes supermarket which I found great for picking up lunch for on the go (as there isn't much past Kingscote) and a few great takeaway and dining options, more on this later. 
Although it is still rather quiet it's probably the best you're going to get on the island, other than perhaps Penneshaw which is only slightly smaller! 
I stayed in the Aurora Ozone Hotel which had everything I needed.
There is Wi-FI, air conditioning, comfy beds, a small fridge and some kitchen essentials. The room is cleaned daily which is always a treat when you're on holiday.
An executive double room cost me AUD 239 per night which isn't bad considering the limited options and my travels during peak holiday times in December. If you are travelling solo or with one other and want to save some money, I would check availability for the Standard Heritage Room which costs $199 AUD per night. 
There is a restaurant onsite with beach views which serves breakfast, lunch and dinner. For $25AUD you can purchase a decent buffet breakfast. The lunch and dinner options are typical bistro food with a fair price for the location on the beach. 
Overall I really enjoyed my stay at Aurora Ozone, the location was great, the staff were super friendly and the rooms were comfortable!
When I was researching where to stay, there were a few places I stumbled across that I loved but were unfortunately booked out! 
Check out Kangaroo Island Seaview Motel. It is a cute modern beachfront motel for a mid-range price (approximately $170-AUD 270 per night depending on the time of year). Perfect location on the main strip in Kingscote!
If you prefer to stay in Penneshaw to stay close to the ferry and explore more dining options than Kingscote and Kangaroo Island Seafront it is a fantastic option. Expect to pay around $150 – $200AUD a night for a double room with all the basic amenities you need.
FAQs: Kangaroo Island Itinerary 3 Days 
Below I have answered some of the most frequently asked questions about visiting Kangaroo Island to help you plan your trip.
Where to eat on Kangaroo Island?
Just like Kangaroo Island accommodation options, restaurants and cafes are limited, especially when you venture out of Kingscote or Penneshaw.
The cost of eating out on Kangaroo Island can add up fast so I would suggest making the most of the Drakes in Kingscote.
For Breakfast, I recommend So Sando. Their eggs on toast for $8 are unreal! They also do a range of gourmet toasted sandwiches and coffee.
I also tried the buffet breakfast at my Kangaroo Island accommodation, Aurora Ozone and it was a decent big breakfast for $25.To get my money's worth I sneakily took an apple and a few pastries to go to have on the road for lunch.
Other breakfast options include Rabbit Warren Bakery or Drakes supermarket for a quick bite or for something a little fancier Cactus is apparently unreal! Labelled the funkiest cafe in Kangaroo Island, it boasts modern brunch options, character and quality coffee.
As you venture out for the day, there are very limited options for lunch.
In the morning before I left for the day, I would stop in at Drakes and grab something from the fresh grab-and-go bakery section, a piece of fruit, and some snacks to keep me going. This also really helped me to keep costs down!
By the time dinner comes around, I'm sure you'll be pretty hungry, a cheese and bacon roll and some lollies on the road is quick and easy but not the most filling!
My favourite place for dinner, which I wish I discovered earlier, was Amanda's Takeaway. Amanda's has loads of different meals prepped and ready to be reheated such as fried rice, pasta, curries and more for only $14! They also do a delicious roast chicken, chips and gravy, absolute heaven!
You can't visit the beach in Australia and not enjoy fish and chips! Kangaroo Island Fresh Seafoods, next to Ampol, is quick, affordable and delicious!
The last option I would suggest is Bella Cafe and Pizza Bar for dine-in or takeaway pizzas.
If you're like me and like to unwind with a nice bottle of wine while on holiday, Kangaroo Island's Sip & Save, located behind the Aurora Ozone Hotel, is the closest bottle shop. Or even better, pick up your favourite wine from a winery tasting experience.
How much does it cost – Kangaroo Island itinerary 3 days? 
Now let's talk numbers. 
Depending on where you are travelling from and what time of year it is will influence the total cost of your trip.
For example, if you're from Adelaide, you can skip spending money on flights and a car rental and instead treat yourself to a few extra nights on Kangaroo Island. But if you are flying from anywhere in Australia or even overseas, a trip to Kangaroo Island can add up. Especially if you don't plan ahead or spend your money wisely. 
Below is a breakdown of how much it cost me to road trip Kangaroo Island solo, over the peak Christmas period.
Flights from Brisbane to Adelaide = $665

Aurora Ozone Accommodation for 4 nights = $1069

Petrol = $110

Car Rental = $717 (I was under 25 so was hit with a young driver fee, but I get discounts from my corporate travel job!)

Food & Drinks= $145

National parks and tours = $52

Ferry = $330
Total for 4 nights of solo travel (mid-range) in Kangaroo Island = AUD 3,088
Now, this does seem like a lot, but as I mentioned earlier solo travel is expensive! 
If I were to travel with 1 other person I would have saved around $900. But this is not always possible! Don't stop exploring the world and doing what you want to do because no one can come with you! 
How many days do I need on Kangaroo Island?
To fully explore the natural beauty and wildlife of Kangaroo Island, it is recommended to spend at least 3-5 days on the island.
This will give you enough time to visit the island's top attractions, including Stokes Bay, Flinders Chase National Park, Seal Bay, and Vivonne Bay. It will also allow you the time to spot wildlife, including kangaroos, wallabies, koalas, echidnas and seals.
What should you not miss on Kangaroo Island?
Kangaroo Island is all so beautiful but if you want to know the absolute must-visits, below are the top 4 places you simply can't miss! 
Vivonne Bay

Stokes Bay

Flinders National Park 

Bay of Shoals 
What month is best for Kangaroo Island?
Kangaroo Island is a beautiful destination year-round, but the peak season is generally from October to April. 
During this time, you can expect the island to be at its most beautiful and the weather to be mild and sunny.
How long does it take to drive the length of Kangaroo Island?
It takes about 2 to 3 hours to drive the length of Kangaroo Island, depending on the route taken. 
However, it is recommended to take at least 2-3 days to fully explore and appreciate the island's unique natural beauty and wildlife.
The roads on Kangaroo Island are generally in good condition, but some sections are unpaved, narrow, or winding, which affects driving times.
Is two nights enough in Kangaroo Island?
Two nights will allow you to see a lot of the top attractions if you have jam-packed your itinerary, like I did in my ultimate Kangaroo Island itinerary 3 days edition! 
It takes at least three to four nights to explore all of the island's attractions, stunning landscapes and venture to the off-the-beaten-path spots. Especially since most of the spots are spread across the island!  
About the Author
Olivia is an accomplished Australian travel blogger and a Campaign Manager at Flight Centre Travel Group. She is currently based in Brisbane, where she balances her full-time career with her passion for travelling the world.
Olivia created her blog, Defining Decade, as a platform to empower others to make the most of their 20s and build a fulfilling life through travel.
She firmly believes that your 20s are the perfect time to explore, make unforgettable memories, and discover who you truly are, and what better way than through travel!
Like this post?
Pin to save it for later!