(Last Updated On: December 10, 2021)
As the holiday season approaches, it is time to start thinking about where to celebrate Christmas abroad. As travel starts to return after the last two years, albeit not without a few hiccups along the way, those of us with the travel bug are aching to escape and explore.
And Christmas is the perfect time to do that!
I've assembled a stellar bunch of suggestions both from my own experiences and from other bloggers to help you plan exactly where you should celebrate Christmas abroad.
Disclosure:  This post may contain affiliate links. I only recommend products or services I would use myself and all opinions expressed here are my own. If you use these links to buy something, I may earn a commission at no extra cost to you. Thanks for your continued support.
Sydney, Australia
Let's kick things off with my hometown of Sydney, where a white Christmas is non-existent! If you want to celebrate Christmas abroad in the thick of summer, then this is the perfect destination for you. 
Here, Aussies are usually found by the beach or the pool eating fresh seafood and trying to stay cool in the heat of summer. Santa is often seen wearing shorts down here, as he would swelter in his big red suit.
It's totally normal in Australia to cook a Christmas roast on the barbeque and though we do often keep to tradition with a Christmas pudding, often the famous Aussie pavlova makes an appearance for dessert.
Lots of Australians have the week between Christmas and New Year off from work, so you'll find plenty of people escaping the cities and taking off to seaside towns on the coast where some of Australia's most beautiful beaches can be found.
For those staying in Sydney, take a ferry to Watson's Bay for some amazing seafood or tackle the stunning Bondi to Coogee oceanside walk for some iconic views.
Contributed by me, Emma Jane Explores
Prague, Czech Republic
If you're wondering where to celebrate Christmas abroad, Prague may be the best option.
What other European city is as charming as the city of a hundred spires? None, I say.
When Prague is covered in snow, one feels like they're in a fairytale. Crowds in the Old Town are at their lowest during winter time and if you are able to get up early enough, you might even have the number one tourist attraction, the Charles Bridge, all to yourself.
Prague also holds a high number of Christmas Markets; the largest one can be found at the Old Town square – in the centre of one of the most beautiful old towns in Europe. While its inarguably beautiful, there are many other markets in the city that are even more charming and definitely less crowded. My favourite ones include the Christmas market at Prague Castle and at the Square of Peace (Náměstí Míru).
Contributed by Veronika from Travel Geekery
Seoul, South Korea
Christianity in South Korea is a rather new religion, so celebrating Christmas in Korea only became popular a couple of years ago, mainly for religious people. For the non-Christians and Buddhist, Christmas is not that much of a family holiday but a day to go shopping or to spend as a couple. 
Even though it is not celebrated in the same way as in the west, Koreans still love the whole Christmas atmosphere like the music and the decorations. So when walking around Seoul you'll find lots of beautifully decorated buildings and Christmas trees.
The best thing to do on Christmas day is go ice skating in the Ice rink in Seoul Plaza, in front of the city hall or stroll the Christmas light festival which displays incredible lanterns and lights along the lovely Cheonggyecheon stream. 
Other fun things to do are going to a Christmas market, spend time at an Ice festival or go skiing outside Seoul. Outside of Seoul, the seaside city of Busan is also a huge fan of celebrating Christmas with a giant light display at Haeundae Beach. 
If celebrating Christmas abroad with Korean barbecue and Soju sounds like your cup of tea, then Seoul is a great idea. 
Contributed by Marie from Be Marie Korea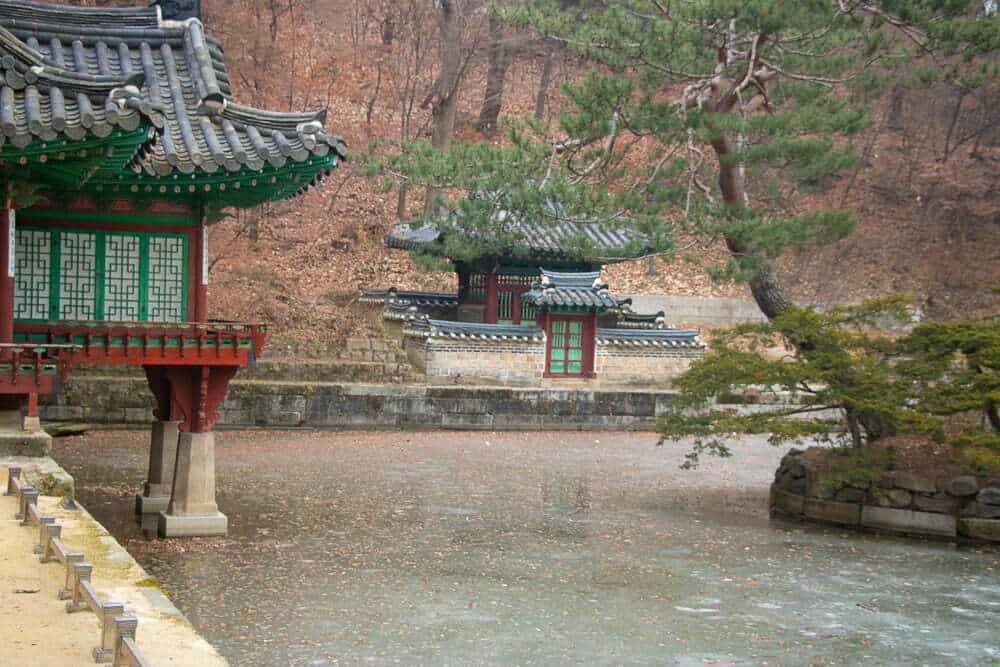 New York City, USA
NYC is the perfect place to celebrate Christmas abroad and there are many ways to experience New York at Christmas. The enormous real tree at Rockefeller Center, which is covered in lights and topped with an enormous Swarovski crystal star is the perfect place to start.
Nearby, the front of Saks Fifth Avenue serves as the canvas for the magical light and music show that plays every ten minutes. Saks' windows are also elaborately decorated for the holidays, as are Bergdorf's, Macy's and the other classic NYC department stores and a walking tour of the windows is a very New York thing to do.
Macy's is also home to Santaland, where kids travel through a winter wonderland to visit Santa (its free, but online reservations are required).
The Rockefeller tree isn't the only one in New York and the angel covered tree and Neapolitan creche at the Metropolitan Museum of Art and the origami-covered tree at the Natural History Museum should not be missed.
Catch up with your Christmas shopping at one of the holiday markets such as Union Square and Bryant Park where you can buy handmade jewellery, local crafts, clothes and more. Afterwards, you can also go ice-skating at Bryant Park (its free if you bring your own skates).
There is also skating at Rockefeller Center beneath the tree or in Central Park with iconic views of the park and Midtown.
A visit to NYC at Christmas wouldn't be complete without catching a performance of the Rockettes in the Radio City Christmas Spectacular or the NYC Ballet in The Nutcracker.
There is so much Christmas fun to have in NYC that you will want to go back every year.
Contributed by James from Travel Collecting
Salzburg, Austria
Picturesque Christmas markets, legendary hot chocolate, and snow-capped mountains are just a few reasons to celebrate Christmas abroad in Austria. If you're looking for a classic Christmas destination that looks exactly like a postcard, then Salzburg and Austria's other beautiful towns are the place for you.
At the Christmas markets, fill up on traditional snacks like bratwurst, pretzels, and strudel (plus dozens more tasty delights) in between shopping for handcrafted gifts, ornaments, and decor with a hot mug of gluhwein in hand.
Once you've had your fill of the markets (for the moment, anyway), head off to explore gilded palaces, take in a beautiful concert showing off Mozart's music, warm up in a cafe with the best hot chocolate of your life, go ice skating, or even hit the slopes and
go skiing in Tyrol!
Popular Christmas destinations in Austria include Vienna, Salzburg (home to my personal favorite Christmas market in the country), Innsbruck, and even the delightfully beautiful town of Hallstatt, whose unpredictable winter weather isn't enough to keep away the bravest of those who visit Austria in search of a winter wonderland.
Contributed by Kate from Our Escape Clause
Philadephia, USA
As a Pennsylvania native, I've been heading to Philadelphia at Christmastime since I was a child. Many staples have been around for decades, such as the light show at Macy's. Complete with tales animated by Christmas lights and accompanied by organ music, this multi-story show attracts thousands.
Also inside Macy's, The Dickens Village is a walk through miniature town that illustrates A Christmas Carol in a unique fashion.
Dilworth Park boasts an outdoor ice rink as well as the Made in Philadelphia Holiday Market. Another outdoor market, the Christmas Village, takes place in LOVE Park and offers stalls complete with handmade and interesting wares from around the world.
City Hall participates in the festivities with a carousel and giant Christmas tree. A stop at the Reading Terminal Market to view the miniature train display also helps families get in the holiday spirit.
The City of Brotherly Love offers many enjoyable activities to enhance the Christmas season.

Contributed by Jennifer from Travel Like A Prince
Amsterdam, The Netherlands
Although Amsterdam may not be as popular an option for Christmas as the towns of neighbouring Germany, there's plenty to enjoy in the main city of the Netherlands during the festive season.
The Christmas season gets an early kick off in the Netherlands with Sint Nicolaas (known as Sinterklaas) arriving in the country on the evening of 5th December, where he distributes sweets and presents to the children of the country, accompanied by his ever-controversial helper, Zwarte Piet. He might look like Father Christmas, but this is a uniquely Dutch version of events. 
As December progresses, there's plenty of time to enjoy Christmas lights in Amsterdam as the festival of lights is held in the city from the beginning of December through to January – the light installations are best viewed from a cruise along Amsterdam's canals.
Ice Skating arenas are dotted around the city with the most popular one being right opposite the Rijksmuseum at Museumplein. Mulled wine (gluhwein) is drunk and Olieballen are made in preparation for the new year festivities.
Christmas markets are becoming increasingly popular too and are a great way to get some christmas shopping done. The closest ones to Amsterdam city centre are at the Ice-rink at Museumplein, at the Westergasfabriek, and in Amsterdam Noord, across the river ij. 
Contributed by Ellie and Ravi from Soul Travel Blog
The Philippines
I always associated Christmas celebrations with falling snow and cozy fires but a recent visit to the Philippines showed me that a tropical paradise can also be a great place to celebrate Christmas abroad. The population is mostly Christian with 80% being catholic so Christmas is the most important holiday in the Philippines.
The playing of Christmas music in shops can start as early as September! Formal Christmas celebrations start on December 16th when many people go to the first of nine early masses leading up to Christmas Day.
There are no pine trees in the Philippines so the locals get creative with their Christmas trees. I saw many trees built out of recycled plastics and beer bottles. Instead of a snowy wonderlands expect 30+-degree weather, turquoise blue waters, and rays of sunshine. If you want to celebrate Christmas but get away from winter consider visiting the Philippines for the holiday season!
Contributed by Lora Pope from Explore With Lora
Tbilisi, Georgia
Tbilisi the capital city of Georgia is a small Christian city in Eastern Europe, that loves to celebrate the holiday season in traditional Christian style.
As soon as the month of December starts, the streets and houses in Tbilisi are decorated with Christmas trees and Chichilaki. Chichilaki is a traditional decoration, carved from dried wood, processed until it gets fluffy and curly shavings. It has wood chips at the top, where people attach fruits.
It is a Georgian tradition to decorate homes with Chichilaki, which is found in abundance in all the Christmas markets across Georgia.
Christmas Eve is when Georgia marks the start of a grand feast which runs until the New Year. The Grand feast consists of traditional Georgian meals like Khachapuri and Kinkali along with lots of different dessert and wine.
According to the Georgians, the more dessert on the table means a sweeter Christmas and New Year for the family.
Contributed by Rahma from The Sane Adventurer
Paris, France
Winter in Paris is perhaps a less interesting season to travel to the City of Lights but everything changes during Christmas time making it the perfect choice to celebrate Christmas abroad.
Christmas markets pop up in the most important avenues such as Champs Elysées, Champ de Mars or Parvis de La Défense and it is nice to have a stroll in search of the last gifts and stop for a "vin chaud".
Also, the main shopping malls decorate their shop-windows with incredible Christmas artworks and if you are in the city, you cannot miss, for example, the hourly Christmas show at Galeries Lafayette.
Looking for new ideas for your Christmas meals at home? Head to Noël Gourmand, the food fair especially dedicated to Christmas with good food, wine and champagne.
Finally, have fun at an ice-skating rink, our favorite skate rinks in Paris are the ones at the Champs de Mars Christmas Village and on top of the La Grande Arche.
Contributed by Elisa from World in Paris
Havana, Cuba
Christmas in Cuba was banned for nearly 30 years not so long ago and so the holiday is much different than in other Latin American countries as many people grew up without ever celebrating it.
However, one city is famous for its celebrations. Legend says in the 1800s a priest noticed that people were missing midnight mass because they had fallen asleep. So he enlisted local boys to go around the neighbourhoods making as much noise as possible.
Today that has evolved into a massive neighbourhood competition of local bands playing music beginning mid-December, culminating in a parade, lots of fireworks and dancing until dawn on Christmas Eve. It is not to be missed.
Contributed by Ayngelina from Bacon is Magic
Like this post on where to celebrate Christmas abroad?
Pin to save it for later!