(Last Updated On: March 6, 2023)
Things To Do In Philadelphia
Two days in Philadelphia is just enough for a little taste of just how cool this city is, but there's definitely more to see and enjoy on a longer trip. On a busy and jam packed trip around the USA, with just a couple of days to spend in each place, I did my best to fit in as much as possible in my two days in Philadelphia and after experiencing just a little of Philly life, I have to say I'm completely hooked and hanging out to get back. 
Disclosure:  This post may contain affiliate links. I only recommend products or services I would use myself and all opinions expressed here are my own. If you use these links to buy something, I may earn a commission at no extra cost to you. Thanks for your continued support.
Day One – Morning
Coffee at Elixir

Finding good coffee that doesn't come from a plunger in the USA can be hard to find, but there does seem to be a revolution going on where boutique coffee houses are embracing the art of the latte. Philadelphia, in particular, is embracing this new wave of cafes with some of the best lattes I've ever had in the US. Elixir is a cute, industrial-chic coffee roasters serving up delicious coffee near Rittenhouse Square. The vibe is welcoming, the place is often full and it's a great way to warm up in winter. It might not top the list of things to do in Philadelphia, but it sure is a great way to start the day. 
Liberty Bell
Seeing the famous Liberty Bell is a rite of passage in Philadelphia. It's free to view the bell, but there is usually a line outside with people eagerly waiting to spot this piece of history. To see the bell itself won't take long – there's no exhibit or additional info panels to delve into here, so lines should move quickly.
The best photo opportunity in here is to line up the Bell with the Independence Hall behind (ideally with no people in the background!). It's one of the top tourist things to do in Philadelphia and has massive symbolic significance, so it is worth a look.
Independence Hall
Right across the road from the Liberty Bell Center, the Independence Hall where the Declaration of Independence was signed is waiting to be discovered. Free tours run every half an hour, but again, this can get really busy so I'd recommend getting there early to avoid long wait times – particularly in Winter where it can be very chilly.
In terms of the historical side of things to do in Philadelphia, this one is my favourite as it's kind of mind blowing to think that I was standing in the same room as Benjamin Franklin and the other founding fathers of the USA. 
Penn's Landing/Benjamin Franklin Bridge
Walk towards the Delaware River from the Independence Hall and you'll reach Penn's Landing. On the way you'll pass by the Museum of the American Revolution which is by all accounts worth a visit, however if you're on a tight budget or timeframe (and I was on both), the $21 entrance fee put me off. Feel free to stop on the way to Penn's Landing if you have the time.
Once at Penn's landing, you'll get a great view of the waterfront and the blue Ben Franklin Bridge linking Pennsylvania to New Jersey over the Delaware River. It makes for a great photo spot. In Winter, there's also an ice rink at Penn's Landing so you can try your hand at skating on the ice if you're feeling energetic!
Benjamin Franklin's House
A nice quick (and free) stop on the walk back towards Reading Terminal Market is to see the remains of Ben Franklin's house. The ruins of the house can be seen through glass panels, with a courtyard with pavers containing excerpts from letters between Franklin and his wife regarding the residence. You won't need to spend long here, but It's an interesting look.
Lunch
Reading Terminal Market
Hands down my favourite place in Philly, the Reading Terminal Market has the most incredible selection of foods you could imagine, and it all tastes amazing. The famous roast pork roll from DiNic's is the top pick at the market, but you'll also want to sample a beautiful sweet, soft pretzel from Millers and if you can squeeze it in, a lovingly hand-made, hand-iced doughnut from Bieler's.
Seriously, make sure you go to this market hungry because you're going to want to try EVERYTHING. This tops my list of the best things to do in Philadelphia. 
Afternoon
Philadelphia's Magic Gardens
This beautiful, eclectic mosaic garden really captures the creativity and uniqueness in the Philly art scene. Created by a local artist, who still lives in the community, as a way to help him manage his depression, the Magic Gardens transformed an unused lot to a place of fantasy and beauty.
Lines for this empty lot turned mosaic park can be lengthy, so you may need to get to the gardens to buy your ticket or buy online (~$10) and then wait around a bit for your entry time. That's OK, though, because I got you covered with an awesome bar suggestion nearby to help you wait out your entry time with a drink in hand.
Tattooed Mom Bar
This is an awesome little hipster dive just under ten minutes' walk from the Magic Gardens, so it's a great spot to wait for your entry time or to relax with a drink after your visit. Worth a try is the Beermosa (a beer lover's version of a mimosa) or any number of the local Pennsylvania brewed beers on tap.
One Liberty Observation Deck
Wander back up towards City Hall to get the best view in Philly from One Liberty Observation Deck. From the top, the sprawl of the city can be seen in full, all the way across the river to New Jersey. Spot the blue of the Benjamin Franklin Bridge, the greenery of Rittenhouse Square, the statue of William Penn atop the City Hall amongst other things. Best on a clear day, this attraction is definitely worth the $15 to visit – especially since the historical exhibits here are all free.
If you're planning on doing some of the museums or the Eastern State Penitentiary, you may also want to think about a city card which includes entry to a few of these attractions – just weigh up what's top of your list of things to do in Philadelphia and do the math. 
Evening
Rittenhouse Square
For a nice evening stroll, the lovely Rittenhouse Square is a great place to relax and wander as locals walk their dogs and squirrels scurry up and down the trees. As the street lights begin to glow, the square looks truly beautiful – a little piece of greenery and nature in the heart of the USA's sixth most populated city. Walking distance from One Liberty, it makes for a nice pre-dinner stroll.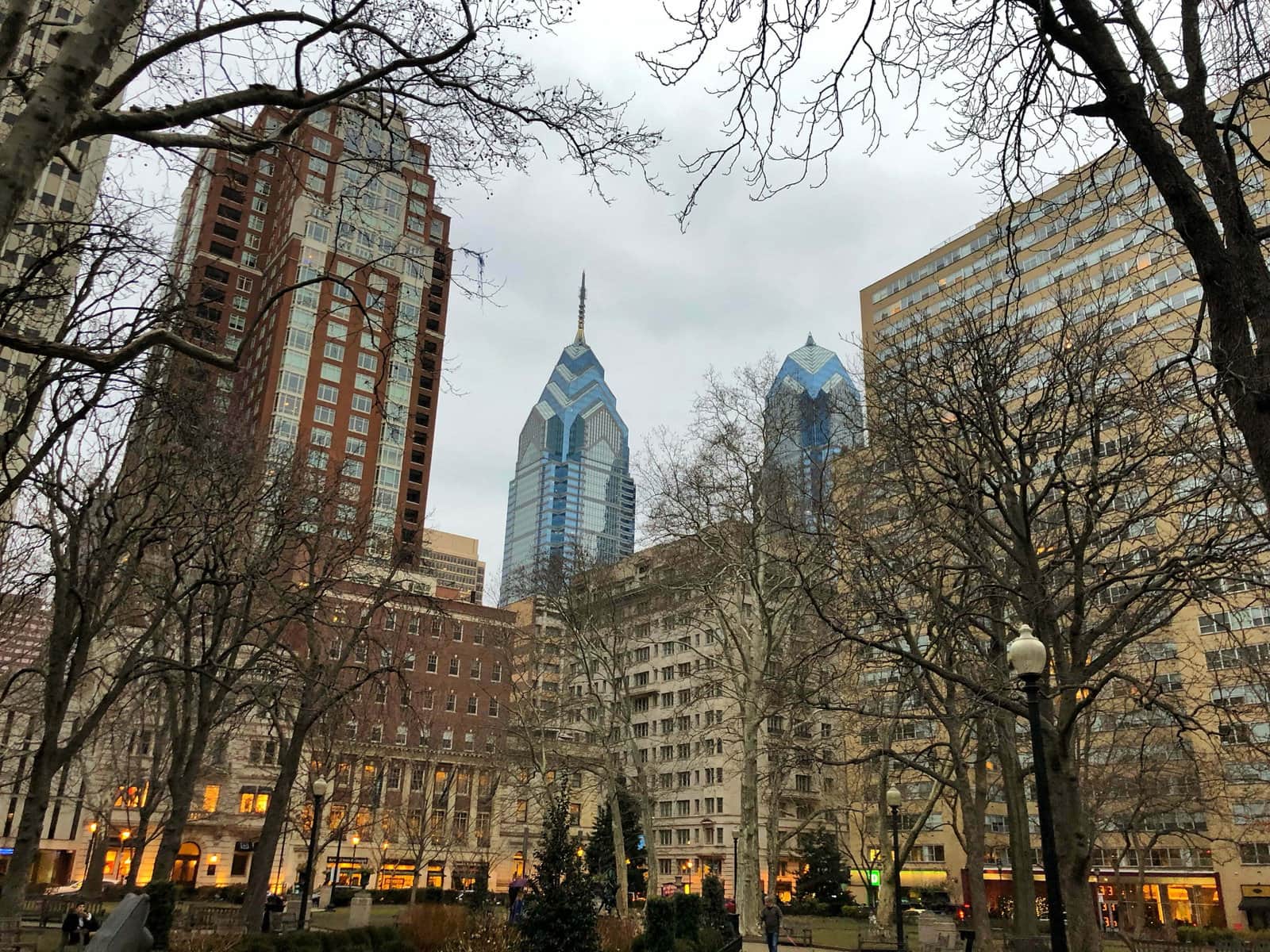 Dinner
Burgers at Devil's Alley
Philly is renowned for its varied and excellent food scene, so you won't be short on places to grab a bite. I loved the vibes at Devil's Alley, located near Rittenhouse Square. The staff were friendly and attentive, and the burgers were excellent – cooked to perfection. We also ordered a side of mac n cheese which was, for me, the highlight of the meal. I could have eaten another bowl full. Devil's Alley is a great option for relatively cheap and cheerful fare.
Drinks
Drinks at Drinkers Pub
Next door to Devil's Alley is the aptly named dive bar, Drinkers Pub. Decorated with wall-mounted antlers draped in festoon lights, with a bizarre collection of signs and bric-a-brac, this feels like the quintessential US dive bar. Locals are here in droves, meeting friends and taking advantage of the $4 beers. It's a great atmosphere, especially when a Philly sports team is playing on the TV and after all, isn't experiencing the brotherly love of locals one of the best things to do in Philadelphia?
Day Two – Morning
Coffee at La Colombe
Take in another of Philadelphia's tasty lattes whilst you watch the world go by in the windows of La Colombe. There are a few locations in Philly, but I like the one with the especially enticing view of the enormous City Hall outside. On the morning I visited, the rain was coming down, so being snug inside watching the grey skies opening up was a lovely, cosy experience. And the coffee is truly great. 
City Hall
Undoubtedly Philadelphia's most impressive building, the City Hall stands tall with the feature spire topped with an 11 metre statue of city founder William Penn on the top. Unfortunately when I was in Philly, the hall was closed, but tours do run normally where the interior and tower sections of the hall can be explored for just $15 USD. If you're feeling thrifty, or the hall is closed, taking a walk around the building does wonders to give an impression of just how large and grand this structure actually is. In winter, enjoy watching the ice skating at the base of the building, too. 
JFK Plaza
The famous JFK Plaza has a perfect diagonal view right through to City Hall. It's notable for being the home of the LOVE sculpture by artist Robert Indiana and is also affectionately called Love Park. The plaza has been around in some way, shape or form since 1965 with the sculpture making its first appearance in 1976. It's a nice spot for a photo, but be prepared to be patient to get the perfect snap. It's a great, free spot and one of the sweetest things to do in Philadelphia, especially if you're visiting with your partner. 
Eastern State Penitentiary
The eerie Eastern State Penitentiary is a whole other side to Philly, a mile away from the warm and welcoming city I've gotten to love. Walking around the derelict prison with a free audio tour narrated by Steve Buscemi is unsettling, but intriguing. This place has a fascinating history as it was once the largest, most expensive structure in the USA and was quite innovative in its ideas of punishment vs. reform. 
Afternoon
Italian Market
Once you've had your fill of creepy prisons, it's time to get back to the vibrant food culture of Philly. High up on my list of things to do in Philadelphia was to visit the Italian Market, famous for its cheesemongers selling enormous wheels of cheese and cured meats to the masses. Wander to the end of the market, where you'll be able to see two famous cheesesteak shops, Pat's King of Steaks and Geno's Steaks who have been competing over customers for a long time.
Lunch
Ralph's Italian Restaurant
After a trip to the Italian Market, you will likely have a hankering for some great Italian food. Lucky for you, the oldest remaining Italian restaurant in the USA is here in Philadelphia and the food is delicious. Ralph's gets busy, so a booking is recommended and in terms of the food, simple is best. The famous red sauce with spaghetti is my favourite, and if you're in the mood throw in a few meatballs, too. 
Washington Square
If you're walking back up towards Center City from the Italian Market area, you'll want to arrange your walk to go via Washington Square. It's not out of the way and it is a pretty little square that also is home to the Tomb of the Unknown Soldier, so there's a nice monument there to spend a moment of reflection. 
Drinks
Dirty Frank's
Utterly my favourite bar in Philadelphia, local dive bar Dirty Frank's is full of friendly faces ready to welcome you with a $2.50 beer + shot special. The bar is cash only, so make sure to leave the credit card at home. On the night I went, seated around the bar was a man in a gorilla suit drinking a Manhattan sitting next to a real life dog drinking water from a bowl. That's the kind of come-as-you-are vibe you'll get at Dirty Frank's. 
Dinner
Steve's Prince of Steaks
The debate rages around Philly as to who serves up the best cheesesteaks, but I'm a firm fan of Steve's Prince of Steaks. It just wouldn't be a trip to Philadelphia without a few beer and shot specials at Dirty Frank's and then rolling on home via Steve's to grab a traditional cheesesteak. The best cheesesteak, in my opinion, comes with Cheese Whiz (don't think about it too much) and onions with an option to add peppers if you wish. The best after drinks food you can ever have!
Where to stay in Philadelphia
And that finishes off a jam packed two days in Philly. There are so many things to do in Philadelphia that this only scratches the surface, but I do think its a great way to get to know the city a little. I'd recommend staying around Rittenhouse Square area if you can, although Philly accommodation is a bit pricey at times.
I stayed at the Club Quarters, which was perfectly located, but to be honest we didn't love our stay. The rooms felt tiny, dated and were not particularly well maintined when we stayed. 
Also, if you're coming from the East Coast of the US, the Amtrak is a wonderful way to get in and out of Philly – heaps of room for you and your bags and nice scenery to look at along the way. 
Like this post? Pin it to save it for later!