(Last Updated On: January 5, 2022)
I arrived in Las Vegas with massive trepidation. Gambling isn't really my strong point or something I enjoy and it so happens that is just what Sin City itself is famous for. Luckily, there are actually heaps of things to do in Las Vegas for non gamblers!
Disclosure:  This post may contain affiliate links. I only recommend products or services I would use myself and all opinions expressed here are my own. If you use these links to buy something, I may earn a commission at no extra cost to you. Thanks for your continued support.
Why Las Vegas for non gamblers?
You might be thinking I'm a massive square or a complete party pooper when it comes to my stance on gambling, but I've played the pokies a couple of times and it seriously felt like I might as well have just put my money in the bin.
I don't understand the attraction of the slot machine; to me it's a money that could buy me a beer, tip a waiter a little extra or try some local street food. I've also seen how addiction to gambling absolutely destroys lives and I just don't want any part of it. 
Absolutely no judgement if you enjoy playing the slot machines or the card tables – it just isn't for me.
Which is why I was curious to see what Las Vegas had to offer for non gamblers.
What to expect in Las Vegas
I'll level with you. Even if you're visiting Las Vegas as a non gambler, you will definitely find yourself surrounded by pokie machines at every corner. The airport has them. Hotels have them. They're unavoidable.
But it is possible to appreciate the quirky kitschy Vegas vibe they bring without partaking.
And that's exactly what I chose to do.
Where to stay in Las Vegas
Las Vegas is definitely not short on accommodation options. Staying on the Vegas Strip is the obvious choice where huge, bold and brash mega-hotels compete to outdo each other. 
I loved staying at the Luxor, which is Egypt themed, but also has the right amount of luxury to go with the quirkiness. Plus, it's an easy hotel to find at night with a giant light beam shooting from the top of the onyx coloured pyramid into the sky. Just look up, and you'll be able to find your way home!
There's plenty of other options if Egypt isn't your thing, though. Caesar's Palace and The Venetian are just as over the top and luxe with lovely rooms. The Bellagio is famously one of the most sought after hotels on the strip, with its dancing fountains a nightly drawcard.
Things to to in Las Vegas for non Gamblers
Explore The Strip
The infamous Las Vegas Strip comes alive at when the sun goes down with throngs of revellers, casino-goers and show attendees wandering the 7km stretch all through the night. 
The Strip allows you to buy an alcoholic drink and walk the street with it as well as bringing it into each hotel and casino you stop in along the way. And in the Nevada heat, a cold beer or a frozen daquiri as a travel companion seems like a pretty good idea.
Start at one end of The Strip and make your way from one end to the other, popping into the many elaborate hotels along the way. My favourite stops are definitely The Venetian where singing gondoliers row tourists under a painted sky inside the complex and the faux Trevi Fountain at Caesar's Palace. 
See a show
Las Vegas is famous for its shows with big name artists taking up residencies in the theatres along The Strip. Elton John, Celine Dion and Katy Perry are all big names who've held a Vegas residency in recent-ish times.
Cirque du Soleil shows are also a staple of the Las Vegas landscape with their incredible production of 'O' an absolute must see. 
Watch the dancing fountains at the Bellagio
The Bellagio's famous fountains are a major attraction on the Las Vegas strip and offer free fun for the whole family.
These fountains are synchronised to move along with selections of music. The shows start from 3pm each day and run at every half an hour until 7pm where they operate every 15 minutes. 
No need for a booking or a ticket, you can just simply walk up and watch.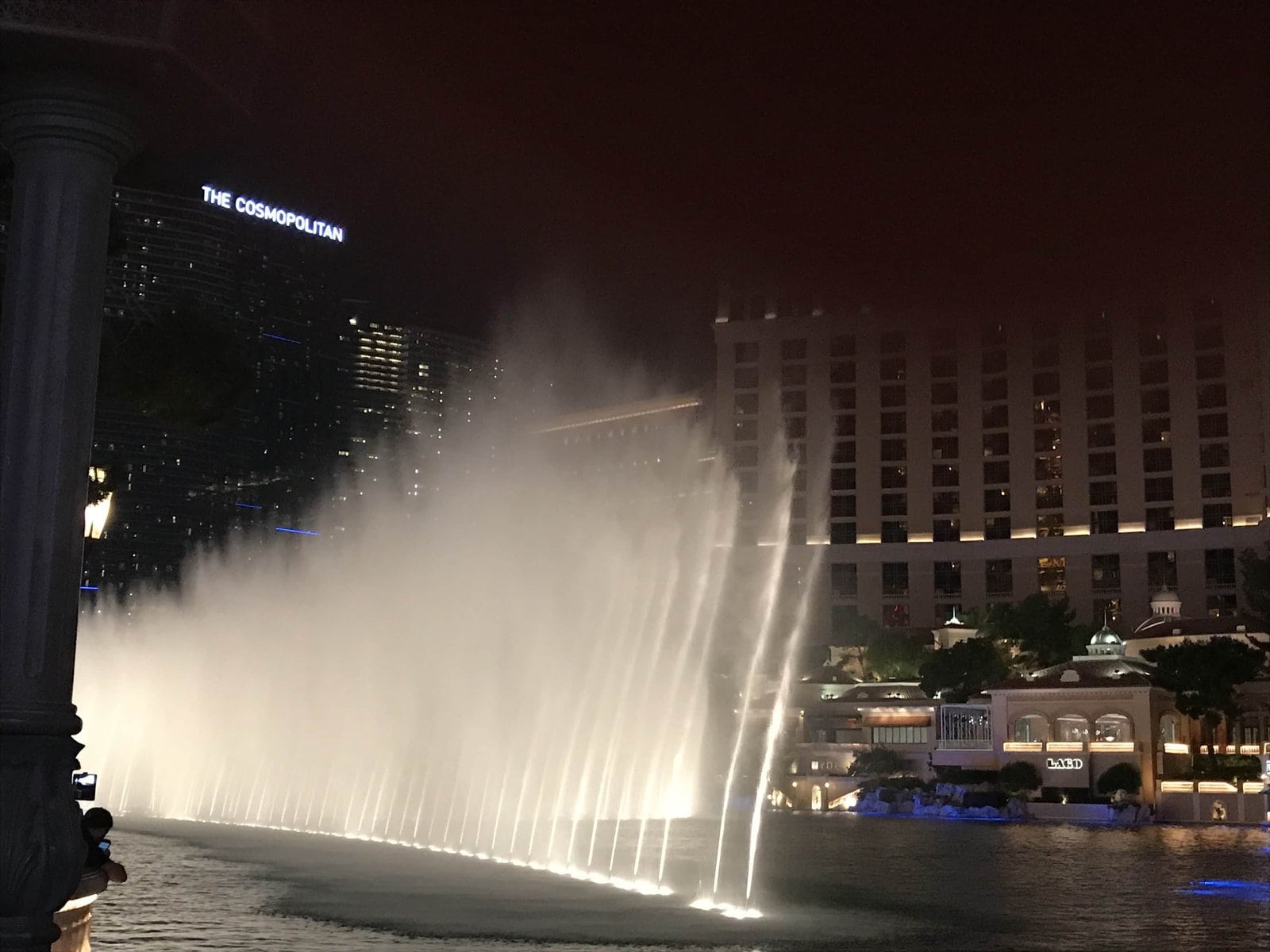 Zip line across Old Las Vegas
Fremont Street is the heart of Old Las Vegas. The old Strip used to be located here on Fremont Street and there's still remnants of functional quirky old casinos dotting the pedestrian concourse. 
One of the most fun things to do in Las Vegas for non gamblers is to take the SlotZilla zipline down the length of the old Vegas Strip and see the whole area from 12 stories high.
Explore Vegas history at the Neon Boneyard
Las Vegas has a past and the Neon Boneyard in Old Vegas has it on show. This incredible collection of retired neon signs is displayed about 20 minutes walk from Fremont Street and the Old Vegas Strip. 
Truly my favourite activity to do in Las Vegas for non gamblers, this museum offers guided tours through a dusty showyard and features iconic sights such as the Stardust Casino's sign and the Sahara Casino sign. 
Visits can be made during the day or at night. If you do attend a night tour, then many of the signs will be illuminated. 
Ride the rollercoaster at New York New York
If it's not enough to stroll through the boroughs of New York City in Las Vegas, you'll be pleased to know that thrillseekers can also decide to jump on a heart thumping rollercoaster ride that will allow you to see the las Vegas Strip from a unique vantage point. 
Tickets to ride the rollercoaster are around $15 USD and you can also buy an all day pass for around $30 USD. If you're staying at the New York New York hotel, make sure you ask to see if there are any discounts for hotel guests to ride.
Take a helicopter ride over the Grand Canyon
If time is of the essence, but you're looking for something spectacular to do in Las Vegas for non gamblers, then taking a helicopter ride over the Grand Canyon is a must. 
This breathtaking aerial view of one of the USA's most amazing natural wonders is worth shelling out the money for. Try to secure a helicopter ride that actually lands at the canyon for a time so that you can also get out and take some superb pictures.
Like this post on exploring Las Vegas for non gamblers?
Pin to save it for later.