(Last Updated On: November 2, 2020)
After a brilliant two days in Busan, it was time to head to the South Korean capital and spend three days in Seoul. I actually flew into Seoul when I arrived in Korea and spent a few hours sleeping off the ten hour flight in a hotel before popping straight on the train to the coastal city of Busan. Now, finally, it is time to get on out and see what Korea's most populous city has to offer.
Day 1 – Morning
Changdeokgung, Secret Garden Tour and Changgyeongung
After starting the day with a coffee, where else to start getting acquainted with Seoul than at the beautiful royal palaces of the Joseon era?
Walking distance from my hotel is the UNESCO World Heritage Listed Changdeokgung, the best preserved of all the royal palaces in the city, so I figure that's a good starting point. Changdeokgung is famous for its nature and features a secluded and expansive back garden accessible only by guided tour, so take this into account when you plan out your timings. At time of publishing, English tours for the Secret Garden run at 10.30am, 11.30am and 2.30pm. 
Changgyeonggung Palace is in the same area as Changdeokgung, so my recommendation would be to do both in the one session, starting with Changdeokgung, moving through the grounds to the 10.30am Secret Garden tour and then finishing that to continue your explorations in Changgyeonggung. 
The Seoul Palace Pass or combination ticket proves convenient and good value if you intend to visit a few of the historical sites. Read my post on it here.
Alternatively, any guest wearing traditional Korean dress (Hanbok) is permitted free entry at any of the Seoul palaces.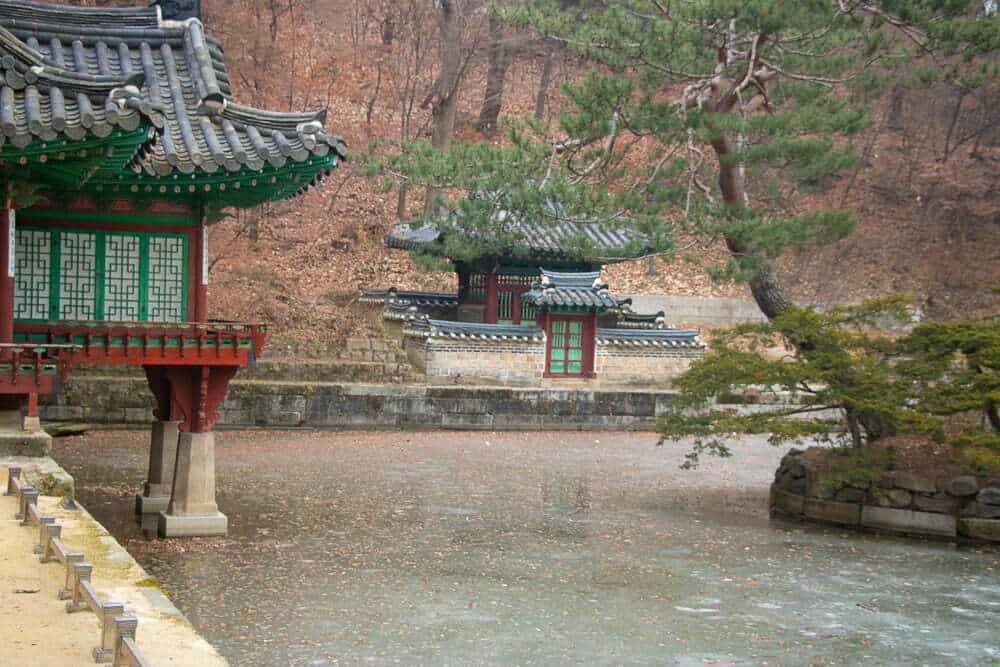 Afternoon
Bukchon Hanok Village
Keeping with the theme of history and tradition, it is now time to explore and enjoy the quaint houses and narrow alleyways of the Bukchon Hanok Village. The hanok is the traditional Korean residence and this well-preserved village is still a living, breathing residential area.
The village is full of gorgeous little craft workshops and stores, but the real joy is getting lost amongst the laneways admiring the intricate architecture that lines the streets.
This are of Seoul is picture perfect and its pretty common to see girls dressed in beautiful hanbok (Korean dress) posing in front of the hanoks.  
Night
Cheonggyecheon Stream
Cheonggyecheon stream is well loved by locals as it provides some much-needed peacefulness in a bustling, busy metropolis. A man-made stream, Cheonggyecheon runs for 11km through the city and provides a lovely stroll day or night. 
As an added bonus, if you happen to be in Seoul around Christmas time, the famous Cheonggyecheon stream lights up at night time with a gorgeous (and huge) Christmas light display. It is absolutely worth braving the freezing cold air to experience this incredible spectacle.
Day 2- Morning
Alternate DMZ Tour
One of Korea's most infamous and most visited sites is the DMZ. It is about as close as its possible to get to the hermit kingdom of North Korea and it is also incredibly informative for those wanting to understand more about the Korean peninsula's complicated and tragic past.
Being on such tenterhooks can sometimes mean that when tensions flare or when issues arise, the DMZ is closed off to tourists.
Unfortunately, with an outbreak of African Swine Fever rampant, the DMZ is off limits to me. Instead, eager to learn more about the history of the Korean War and the division between North and South, I undertake an alternate to the DMZ tour which still puts me very much in close proximity to North Korea.
The tour departs super early in the morning and returns early afternoon, visiting Imjingak Park and Odusan Observatory before concluding back in Seoul at the Korean War Memorial.
Afternoon
Jongmyo Shrine
From painful past, to even older glory, a visit to Jongmyo Shrine is a lovely way to shake off the despair of the war-torn history of the divided Korea. Accessible only by guided tour, this UNESCO World Heritage site is one of the most fascinating places in Seoul.
Here, the spiritual ancestors are revered higher than even the serving king himself and in the longest wooden building in Korea, many of the former Joseon kings are enshrined with their wives. 
Once a year, the shrine still performs the traditional rituals, paying respects to ancestors past. Jongmyo Shrine entry is included in the Seoul Palace Pass, so if you're intending to visit all 4 palaces and the shrine over your three days in Seoul, then you'll save yourself some cash purchasing the combination ticket.
Evening
Explore Insa-dong
Insa-dong and neighbouring Ikseon-dong are usually teaming with tourists and locals, but they are absolutely worth braving the crowds as this area is arguably the prettiest part of Seoul. 
Artisan shops, quaint cafes and quirky fashion is all on display here with narrow, dimly lit lane ways holding many hidden treasures. There are plenty of food options here for dinner, bars for those seeking a tipple and lots of photo opportunities.
Take your time, grab a meal or a drink and stroll well into the night. If you're spending three days in Seoul, you may even want to come back several times during your stay.
Day 3- Morning
N Seoul Tower
For the best views in Seoul and of Seoul, the N Seoul Tower cannot be beaten. Make the trek up to Namsan Mountain to marvel at the urban sprawl of the city below.
To make the morning extra special and to avoid climbing hills, I'd also recommend taking the cable car up the mountain which also provides great views. 
Up the top of Namsan Mountain, there's plenty to see in the courtyard below including cute little love locks providing shocks of colour everywhere and armoured guards in traditional dress posing for photo opportunities.
Seoul can have issues with air pollution and haze, so keep an eye on the forecast and pick the best looking day for optimal views.
Afternoon
Floating Islands
A little way back down the mountain (around 20 mins drive from N Seoul Tower) is a pretty cool architectural site called the floating islands (or Dungdungseom) where three man-made structures bob atop the Han River.
The three islands are designed to each represent a stage of a blooming flower – seed, bud and blossom. At night they're often beautifully lit up and house all sorts of functions and events.
In summer, the 'seed' island, Terra, is home to watersports and even features waterslides into the river. If you like interesting architecture, then these are a great way to experience the buildings of modern Seoul.
Evening
Starfield Library
Finishing off our three days in Seoul is a trip to the most Instagrammable space in the city (in my opinion). The Starfield Library in the COEX Starfield Mall is a gorgeous, futuristic book lover's haven with wall high bookshelves and dreamy lighting. 
Located in the modern Gangnam area (made famous by the song Gangnam Style), the Starfield Library is a huge expansive open area where anyone is able to enter for free and take a load off. If you're a serious book lover, you'll be pleased to know that you'll easily be able to find English language books here and for those digitally inclined, this library also features eBooks available on iPads.
Wrapping Up
Wrapping up three days in Seoul feels like I've barely scratched the surface of this amazing city. I'm sorry to be leaving, but I'm excited to be back soon.
Like this post? Pin to save it for later!