(Last Updated On: October 31, 2020)
Two days in Busan is barely enough to scratch the surface, but its more than enough time to feel completely enamoured with this South Korean city by the sea. I popped down to Busan on a whim, not knowing much at all about what I'd find there and left with a brand-new appreciation for how special this part of the Korean Peninsula is.
There are so many things to do here, from bustling marketplaces to fast-paced street food, relaxing hot springs to incredible coastal views. 
To be honest, the only time I'd heard of Busan was when watching the Korean zombie movie, Train to Busan, and in the movie (spoiler alert) they never actually get there. So when I started reading up on where to visit in South Korea in preparation for my trip and saw the city of Busan in the list of recommendations, my interest was piqued and the more I read and researched, the more I wanted to visit.
The city is sprawling, so there's absolutely no chance you'll be able to explore it all in two days, but two days in Busan is definitely enough to get a great sampler of South Korea's second biggest city. 
Day 1 – Morning
Haedong Yonggungsa
The first stop on our two days in Busan has to be the city's most photogenic temple, Haedong Yonggungsa, which stretches right along the ocean-side cliff face. This temple name translates in English to Korean Dragon Palace Temple and the site has been sacred since the 1300s.
A visit to Haedong Yonggungsa is free with the exception of the transport costs to get there, so it's a great place for exploration for those on a tight budget. Make sure you bring some coins with you to try and toss into the bowls of stone statues for luck throughout the temple and definitely spend time marvelling at the meticulous painted beams that adorn the different buildings in the complex.
If you have time, I'd also recommend grabbing a snack from one of the many street food vendors cooking up fresh hotteok (Korean Sweet Pancake) and other yummy treats.
Afternoon
Haeundae
Haeundae is arguably Busan's most famous region, boasting Korea's favourite white sandy beach. Whilst I think there are better areas to find accommodation in Busan, like the street food Mecca of Nampo-dong, this beach town is a must see on most tourist lists when they arrive in the city and therefore definitely makes it into our two days in Busan itinerary
Surrounded by skyscrapers, hot springs and markets, Haeundae Beach (even in winter) is a sight to behold. It is immediately easy to see why Koreans and visitors alike flock here in summer to enjoy a day of sand and swimming.
I loved strolling along the almost-empty beach with the cold winter air hitting my face like a splash of icy water. In the period I visited Haeundae between Christmas and New Year, the beach is set up with a light display to rival any others that I've seen and though it is at its most spectacular at night, seeing the intricate designs in the day made me appreciate the night viewing even more.
Night
Haeundae
Since you're already in the area it would be almost criminal not to hang around to see the light show on the beach. If you need to kill some time, then wander the market just a couple of streets back from the beach and marvel at the number of wriggling, bizarrely unfamiliar sea creatures that locals are ordering for dinner. 
If you're more than peckish and after a sit down meal, then I recommend Korean BBQ restaurant Obanjang for a relaxed dinner by the fire. In true Korean cook-your-own style, you'll be able to order your meats and grill them at your table whilst hoeing into a hearty selection of included side dishes including kimchi.
Once you're done eating, head out into the night and marvel at the magical fairyland of lights on the beach for many a photo opportunity before heading back to your accommodation for the night.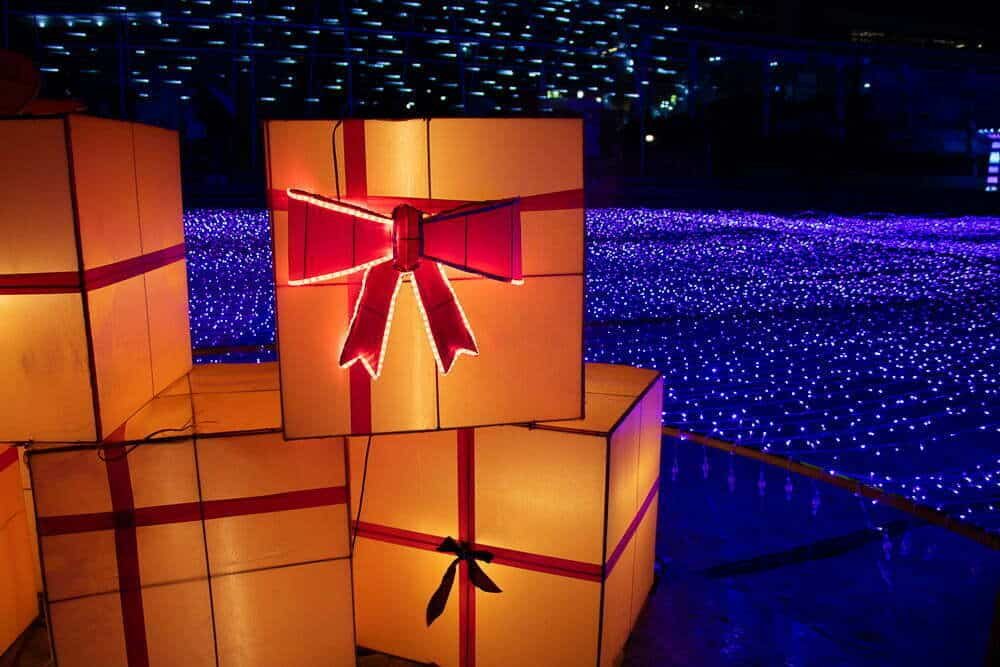 Day 2- Morning
Jagalchi Market
The famous Jagalchi Market is full of surprises. Coloured plastic tubs full of wriggling octopi or spindly legged crabs line the outer streets of the market building as vendors in yellow gumboots clean, gut and package up their wares to locals hoping for an early morning bargain. Though you may not feel like eating seafood in the morning, the earlier arrival here the better to really see Jagalchi and the outer markets in full flight.
Inside the market, there is an opportunity for those who want to sample the freshest seafood around to order their breakfast or lunch straight from the tank and have it cooked at the restaurants upstairs. For those unable to stomach a marine breakfast, simply watch and marvel at the vast array of creatures here, splashing around in the tanks. Either way, whether you're eating or simply looking, Jagalchi is a must visit on your two days in Busan.
Midday
Busan Tower
The Busan Tower is essentially unmissable in the Busan skyline if you are staying in the Nampo-dong/Jagalchi area of Busan. A bright, white beacon by day and lit up spectacularly by night, the observation deck of this tower provides exceptional views of the harbour, Gamcheon Culture village and the huge urban sprawl that makes up the city. 
Though it stands out in the Busan skyline, the tower itself is relatively small, but positioned perfectly for the best views. For 8000 KRW, you can head up to the observation deck and take in the views before exploring the grounds around the tower. 
Afternoon
Gamcheon Culture Village
A real highlight of any visit to Busan is to experience the quirky and quaint vibrancy of the Gamcheon Culture Village. This former slum turned arts and tourist precinct may be full of visitors rather than locals, but it is nonetheless a great afternoon out. The narrow, winding laneways and cute little shops and galleries still feel very Korean, but they also reminded me of exploring the old towns of Europe and enjoying getting lost amongst the twisted streets.
Gamcheon Culture Village is completely free to explore, so the only expense is getting there – which is easy to do by public bus. Visiting in the afternoon gives you the added advantage of being able to watch the sunset over the coloured houses and bathe the village in beautiful soft hues.
Evening
Explore Nampo-dong
A quick bus ride from Gamcheon Culture Village is the bustling madness of Nampo-dong. Street food lovers will absolutely rejoice in the array of vendor stalls serving up everything from sweet to savoury as well as little pop up restaurants in tents in the middle of the streets. One of the most joyous things to experience is hopping from stall to stall and having a walking dinner. Sample the sweet Korean pancake hotteok, grilled seafood skewers and egg toast – a surefire way to keep yourself warm and well fed at any time of year. 
Nampo-dong is incredibly lively. There are plenty of restaurants and bars for those wanting to enjoy a sit down meal and one of the most delightful and surprising things is the number of local performers busking in the streets. Koreans were out in force, dancing and singing along to the songs and after a few glasses of soju, I was right there along with them. 
This brings our two days in Busan to a close. I truly fell in love with this vibrant city which completely surpassed my expectations in every way. Next up, its off to Seoul, but I'll definitely be keen to get back to Busan sometime in the future to enjoy the city's unique culture and fun-loving spirit. 
Did You Know?
Busan is South Korea's second most populous city and is known as the 'summer capital' of Korea
During the Korean War, Busan was one of only two South Korean cities not captured by the North
Busan is the closest South Korean city to Japan and ferries run between the countries daily
Busan has its own film festival and walk of fame in Nampo-dong around BIFF Square where celebrity hand prints are enshrined on the pavement.
Like this post? Pin to save it for later!