(Last Updated On: October 31, 2020)
Visiting Bukchon Hanok Village
What is Bukchon Hanok Village?
Bukchon Hanok Village is a traditional Korean village located in Seoul where visitors can get a sense of what olden times looked like in Korea's capital. Visiting Bukchon Hanok Village is one of the most popular tourist activities in Seoul and is a favourite with both domestic tourists and foreigners alike.
Nestled in between the ancient palaces of Changdeokgung and Gyeongbokgung, Bukchon Hanok Village is the perfect place to spend an afternoon strolling through the little laneways. Catching glimpses of girls dressed in colourful hanbok (traditional Korean dress) posing in front of the houses is like sport here, with everyone trying to re-create the magic of the area in photographs to take back home.
This area is over 600 years old and was a residential area way back in the rule of the Joseon Dynasty mostly housing nobility and well to do who needed access to the surrounding palaces.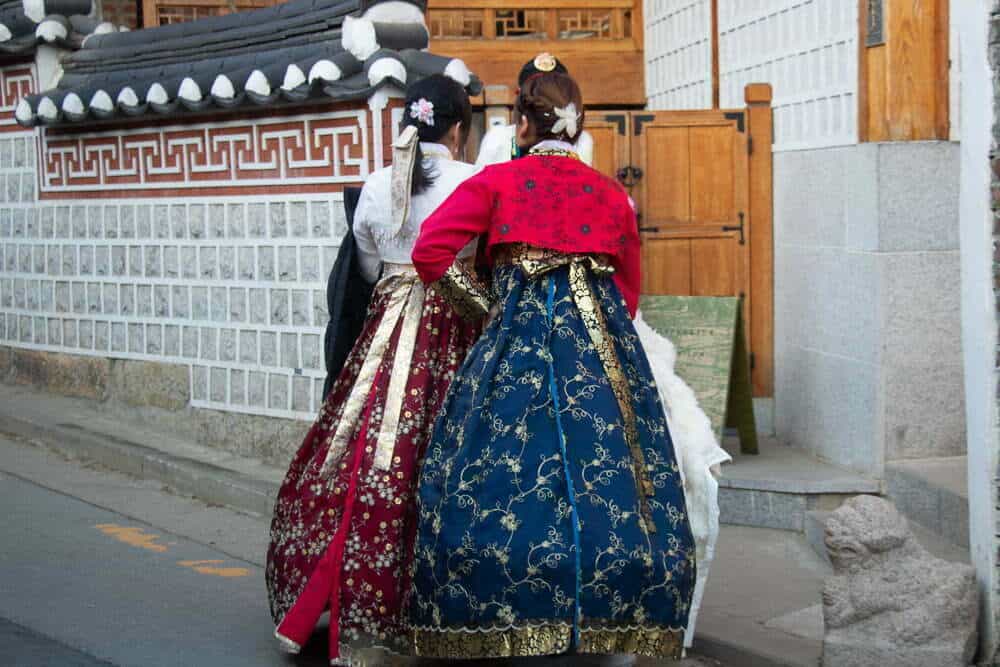 Getting There
Walk
If you're located near Insa-dong or the palaces, then it is an easy enough walk to Bukchon Hanok Village. From Changdeokgung Palace, it is an easy 15 minute walk and slightly less from Gyeongbokgung. Any further away, and you're likely to want to grab public transit or a taxi.
Public Transport
From Seoul Station, there are ample buses headed in the direction of Bukchon Hanok Village but you will usually need to change buses midway. For example, you can take the 150 bus from Seoul Station, then change to the green Jongno02 bus at Jongno station. My preference would be to travel by train on line 1 to Jonggak station and then take the Jongno 02 bus from there (exit station for the bus at 3-1). From Seoul Station, the trip will take around 30 mins and from Gangnam around 45 mins.
I'd recommend downloading the Korean application Naver Map which is the best way to get all your public transit navigation instructions when in South Korea.
Rent A Bike
Cycling from Seoul station is a quick 15-minute ride if you're able to get your hands on a bike. The only downside is you will need to locate a bike hire stand in order to get your hands on one.
Taxi
A taxi from the Insadong area or the palaces will set you back around 3,900 KRW, however if you're further away like in Gangnam, then you're looking more like 15,000 KRW in a taxi and you're probably better placed to take public transit if possible. If you're around Seoul Station, then a taxi to Bukchon Hanok Village will be closer to 6500 KRW. Use local map app Naver Map to assess the possible routes and potential taxi prices for a ride.
How to get the most out of visiting Bukchon Hanok Village?
Remember that it is still a residential area
Bukchon Hanok Village is a living, breathing part of Seoul to this day. Residents still live in the restored wooden huts and for this reason, tourists should always be respectful and conscious that this area is still home to many. Because it is still home to residents, Bukchon Hanok Village is closed in the evenings, so that locals can have a break from tourists clambering to explore the area.
It is totally free to visit
The village is free to visit and wander around in and despite still being a functional residential area, there are also many boutiques, craft stores, workshops and tea rooms to wander into as you explore.
Visit the Baek In-je House for an up-close perspective of hanok life
For those curious to learn more, a visit to the Baek In-je House is in order. Located at 6 Bukchon-ro 7-gil in Gahoe-dong, this hanok house was built in the Japanese colonial era and is beautifully preserved. There are also fantastic views of the broader Bukchon Hanok Village from this location. The house is open every day except for Mondays and English tours are run at 4pm on Fridays. It is still possible to visit without a tour, but you'll only be able to wander the grounds – not the inside. Tours are absolutely free, too.
Get great views of the area at the Bukchon Observatory
Another spot of note I'd recommend adding to your Bukchon explorations is to take in the view from the Bukchon Observatory. As you wander the streets, you'll no doubt see signs directing you to the Observatory, which is a quaint little tea room with beautiful views of the tiled hanok roofs and the palace of Gyeongbokgung visible in the distance. When I visited in the dead of winter, it was also a welcome escape from the utterly freezing temperatures and I was able to de-thaw and watch the sunset with a cup of warm green tea in my hands.
Explore and enjoy!
Overall, the greatest joy of Bukchon Hanok Village is to get completely lost wandering the little laneways, admiring the gorgeous restored houses and stopping in at little artisan boutiques along the way. It is a picture-perfect way to spend an afternoon in Seoul before heading towards Insa-dong for dinner.
Visiting Bukchon Hanok Village
37, Gyedong-gil, Jongno-gu, Seoul
서울특별시 종로구 계동길 37 (계동)
Open weekdays & Saturdays 10:00-17:00
* Applies to 100-m long road along Bukchon-ro 11-gil
For more information, visit Imagine Your Korea
Like this post? Pin to save it for later!