(Last Updated On: November 24, 2021)
Stepping out into the fresh mountain air of Gamcheon Culture Village amongst the pastel coloured, box-style houses feels like a revelation after the bustle of the market-heavy Busan city centre. From here, all of Busan seems to be within view, all the way across to the East Sea in the distance. In my time so far in South Korea's most southern major city, I have hardly spotted a tourist, but here in Gamcheon, the village heaves with foreigners, all here to catch a glimpse of the so-dubbed 'Machu Picchu of Busan'.
A Brief History of Gamcheon Culture Village
A former ghetto for war refugees, displaced in the three-year-long conflict of the Korean War, Busan was the only city never held by the North Korean forces. This meant that during the years of the war from 1950 – 1953, Koreans fled to Busan and essentially the city became overrun with refugees – very quickly room ran out to house all the displaced people within Busan city. Gamcheon was opened as a refugee ghetto with shanty houses lining the hillside overlooking the city.
Gamcheon was incredibly impoverished, a slum that continued to increase in size from a single district to now nine districts. It was only in 2009 that the government decided to revitalise the area with art and creativity, commissioning artists to paint murals and make the area more tourist friendly.
Whilst locals originally rejected the concept, eventually the region warmed to the idea and now the village is a vibrant tourist attraction on the Busan sightseeing trail.
Getting to Gamcheon Culture Village
From Busan station, there are several options to make your way into the hills to see the pastel hues of Gamcheon Culture Village. As Google Maps doesn't work well in South Korea, I'd suggest downloading the amazing navigation app, Naver Map, which will help with journey times, routes and costs.
Bus
Fastest & No Transfers – In just over 30 mins, one of Busan's green buses will take you all the way to the foot of Gamcheon Culture Village but be warned that there is a steep hill to get up to the village entrance about ten minutes' walk from the bus stop. The bus number is 87 and it will cost you around 1200 KRW. 
Less Walking – If walking up a giant hill doesn't sound appealing, then there is a bus option that stops at the mouth of the village. The 17 bus will take you from Busan station five stops to Chungmudong Gyocharo and then you'll change to the Seogu 2 bus form Chungmu Market stop to get to Gamcheon. Travelling with my older parents, this is the option we took as they were not keen on walking up the hill and it really takes around the same amount of time if the buses connect well.
Drive
From Busan Station, a taxi will take less than 15 minutes and will set you back around 5,400 KRW. If time is of the essence, or there are a few of you, this option might be more appealing, though I do think there is some fun in trying out the local bus system.
Ride
A bike ride is also a quick option for those energetically inclined, though I wouldn't be eager to experience the calf-burn that riding up the final hill to the village would entail. Riding will take around 20 minutes, but you'll also need to find one of the twelve bike rental shops in Busan and collect your bike after showing ID.
Walk
If you have a lot of time on your hands and fancy seeing the city by foot, then it is possible to walk from Busan station to Gamcheon Culture Village in just over an hour. It's obviously the cheapest option, but if you have limited time in Busan, then skip the stroll and get to the village to maximise your time.
What to do In Gamcheon Culture Village
Enjoy the street art
Gamcheon is truly a village of creativity which means that street art is around every corner. Colourful murals adorn the walls of the village and though many are located on the main pathways, there is also goodness to be found from wandering off the main route slightly to have unique artworks all to yourself to discover.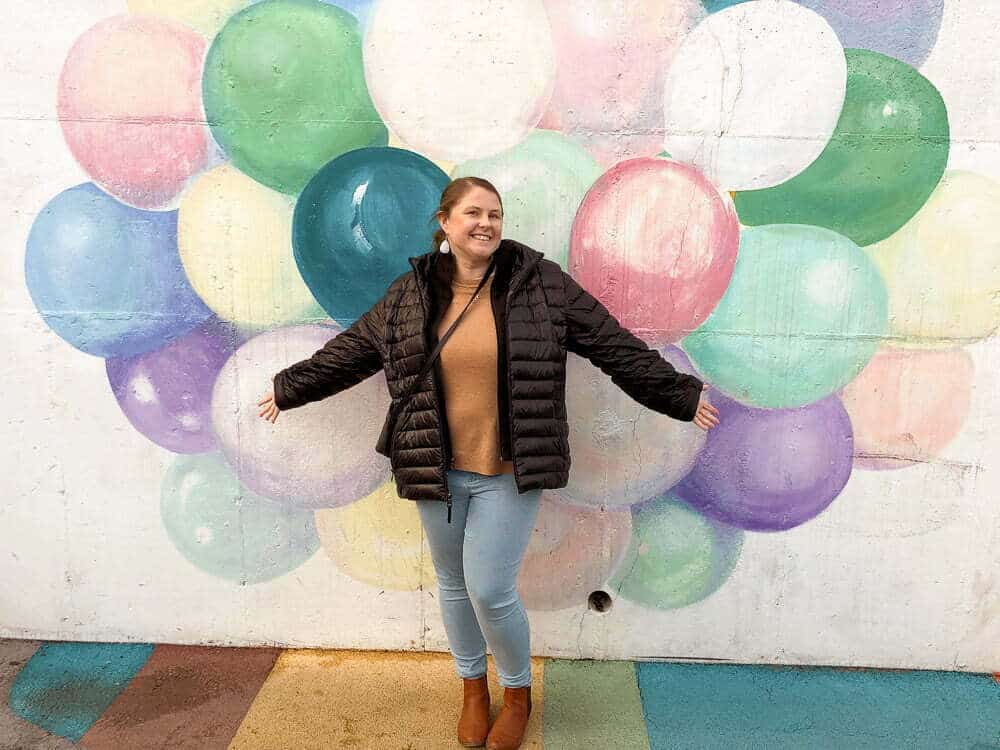 Wander the laneways
No matter where I am in the world, I love to find winding, narrow laneways to explore. I did not expect to find this sort of thing in South Korea, so I was so happily surprised to realise that Gamcheon Culture Village is full of a network of alleys that twist and turn around the inner sanctum of the township. Read more about my love for laneways in my French Riviera blog posts.
Leave a love lock
This is super touristy, but if you're visiting with a significant other, then you may want to inscribe a padlock and leave it in Gamcheon as a symbol of your love standing the test of time. There are fences and areas of the village just covered with these locks, so if buying one isn't your thing, you can at least have a little read of what other people have written to their loved ones.
Sample the street food
Like everywhere in Busan, street food is king. There are stalls galore in Gamcheon Culture Village and it's a great place to buy a snack or two as you stroll amongst the former slum. My favourite snacks are the sweet Korean pancake, Hotteok, or the Bungeo-ppang (carp bread) which is a sweet dough filled with red bean or custard.
Find the Little Prince
Gamcheon seems like a strange place to be seeking out the boy from the famous French children's book, The Little Prince, but he and his fox are here, sitting atop a wall overlooking the village. There are usually huge queues to take a photo with the statue, so use your discretion to judge if you have time to wait for a snap.
You'll also see the Little Prince and his fox feature in a lot of the souvenir shops around Gamcheon. Just opposite the statue is a painted staircase with every step depicting a different book which makes for a great photo opportunity, too.
Grab a Village Map & Collect Stamps
The village information centre sells a map of the community for 2000 KRW which highlights key places to stop in on and collect stamps. If you have kids, it's a good way to gamify your visit, but even as an adult it proved to be a good source of information on what the main sights to see in the village are.
Watch the sunset
Just near the bus stop at Gamcheon is the perfect spot to watch the sun go down over the lively and colourful village. Set up for golden hour, when the fading light paints the village in a pink and purple glow before bidding adieu to this magical part of Busan.
Gamcheon Culture Village is a wonderful example of a region transformed from impoverished and struggling to a beautiful celebration of arts and culture. In a country with a challenging history of conflict and international interference, it is wonderful to find a place like Gamcheon that flares with such vibrancy and positivity. It is definitely a highlight of any Busan itinerary.
Like this post? Pin to save it for later!