(Last Updated On: March 24, 2023)
Sydney is a great city but sometimes you've just got to get out of the crazy busy CBD and enjoy a day trip somewhere else. I've compiled a list of my favourite day trips from Sydney, but all of these could also be turned into an overnight or long weekend away if you're in no rush.
Disclosure:  This post may contain affiliate links. I only recommend products or services I would use myself and all opinions expressed here are my own. If you use these links to buy something, I may earn a commission at no extra cost to you. Thanks for your continued support.
Ku-ring-gai Chase National Park
Ku-ring-gai Chase National Park can be accessed on the northern side of Sydney, around 40 minutes drive from the CBD. This National Park is famous for its wonderful views from West Head Lookout where Palm Beach and Barrenjoey Lighthouse can be clearly seen.
The national park also has a heap of impressive history including a cave that still features ochre handprints left from an Indigenous tribe centuries ago.
And to cool off, there's a beautiful swimming hole with a waterfall nearby called Upper Gledhill Falls – just waiting for you to stop in and take a dip. It one of the best day trips from Sydney.
The Hunter Valley
One of Australia's most famed wine regions is an easy two-hour drive from Sydney. The Hunter Valley is a fantastic day trip from Sydney, but can also be turned into a weekend away for those really wanting to soak up the magic of this delightful pocket of the state.
Saddlers Creek, Brokenwood, Tempus Two and Tamburlaine wineries all have fantastic cellar door experiences to try your hand as a sommelier and the beautiful Audrey Wilkinson winery is a must visit for the incredible views of the valley below.
Food in the Hunter Valley is some of the best you'll find anywhere in New South Wales, with everything from Michelin hatted restaurants to more casual pub-style fare. If your a food and wine lover, this should definitely be on your list of day trips from Sydney to experience. 
Kamay Botany Bay National Park
This beautiful (and lesser visited) National Park is split across the southern and northern headland at the entrance to Botany Bay. You'll actually be able to get two day trips from Sydney if you'd like to visit both sides of the park!
Steeped in historical significance, Kamay Botany Bay National Park was home to many of Australia's First Naitons people who were shocked to see the arrival of white settlers in the area many years ago.
Now a beautifully preserved national park area, there are many coastal walks, beaches and caves to explore here as well as plenty of picnic spots perfect for families to enjoy a day in the outdoors.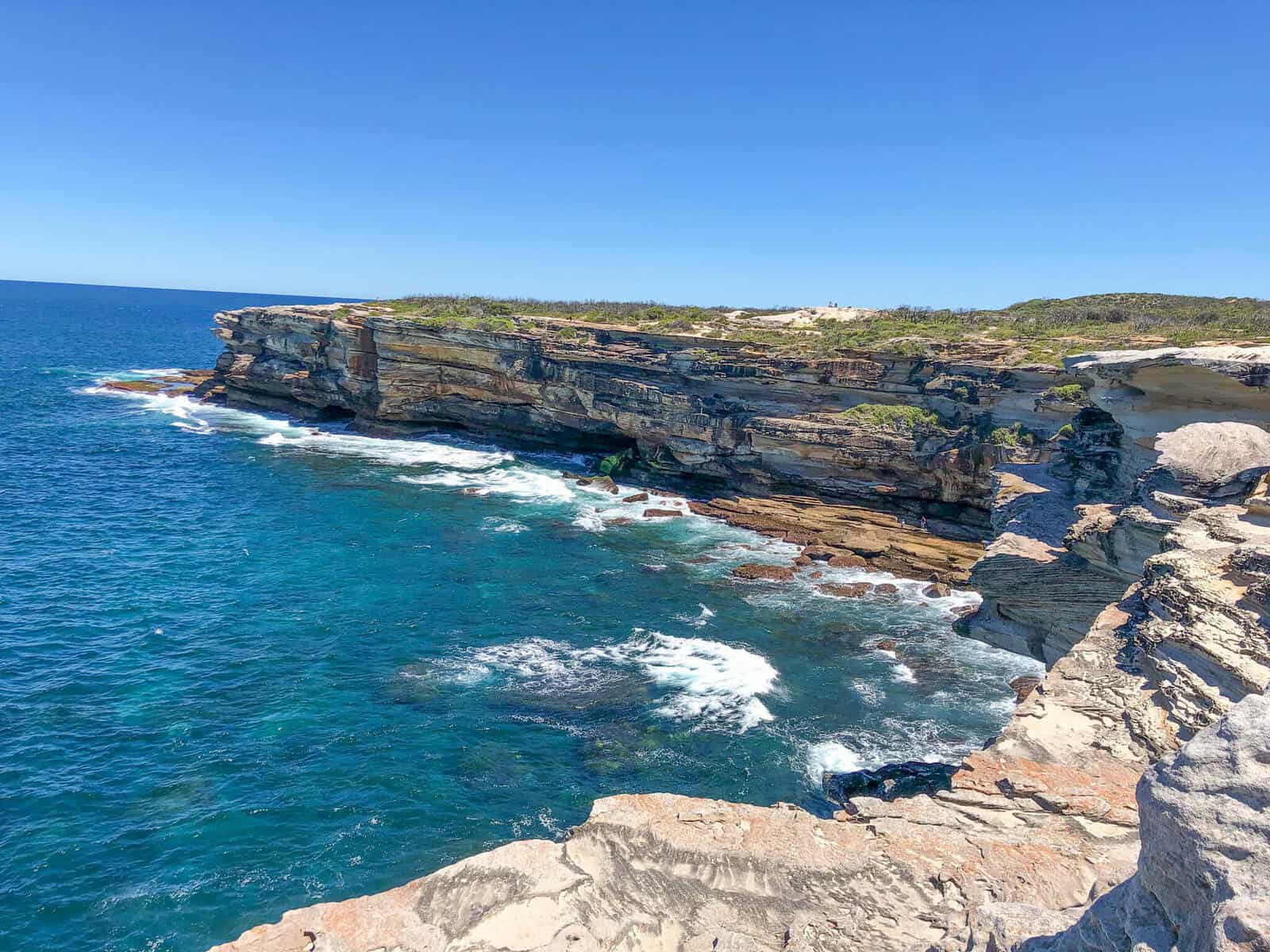 The Southern Highlands
The Southern Highlands centres around Bowral, the region's biggest town. Famous for tulips, meat pies and some of the prettiest scenery in the land, the Southern Highlands can be accessed around 2 hours south of Sydney. 
Lovers of meat pies will rejoice at the famed Southern Highlands Pie Trail, where local pie-makers compete to win the title of the best pie in the region. 
Nearby Fitzroy Falls will impress with a huge wall of water that roars over the cliff edge and the views looking down over the towns from the lookouts on Mount Gibraltar are awe-inspiring. 
In spring, Bowral really comes to life with the renowned Tulip Time festival in Corbett Gardens. This festival is one of the ultimate day trips from Sydney, drawing many avid gardeners and floral admirers to town to take in the vibrant flowers. 
Lane Cove National Park
Hidden on the Lower North Shore of Sydney is the lush Australian bushland of Lane Cove National Park. Located a mere 10km north-west from the Sydney CBD, this is a perfect quick day trip from Sydney or even a half-day trip for those wanting to avoid a long car ride.
Easily accessible by car (parking costs $10) or by public transport, Lane Cove National Park is centred on the peaceful Lane Cove River, sitting between East Ryde, Pennant Hills and West Chatswood.
The park also boasts a cute little rowboat-for-hire area which is perfect for people wanting to get out on the water. There's also ample picnic spots and self-guided walks. It is even possible to go glamping in the park for those wanting to switch off and enjoy the nature for longer.
A visit to Lane Cove National Park is a great idea for anyone looking for shorter day trips from Sydney. 
Palm Beach
For fans of the TV show Home & Away, this place will look familiar. Palm Beach features as Summer Bay in the long running Aussie show.
An easy day trip from Sydney, Palm Beach is at the tip of the Northern Beaches. On one side of the headland there is the Palm Beach surf beach and on the other side there's the gorgeous, calm waters of Pittwater full of sailing boats.
The Barranjoey Lighthouse walk is a favourite activity here, with views that stretch out over the expanse of the Ku-ring-gai Chase National Park.
The Royal National Park
An hour south of Sydney lies the second oldest recognised National Parks on the planet. Rugged coastlines, long walks, lagoons and beaches abound here in a vast expanse of nature reserve.
The best way to maximise a day trip to the Royal National Park is to road trip down in a car and you'll be able to drive between the different areas. Park entry will cost $12 payable at the ticket booths dotted around the entry points.
It is possible to get the ferry from Cronulla to Bundeena, however this is really only good for those wanting to stay in the one spot.
The Royal National Park is enormous and the different sights to see are not always walking distance apart.
My favourite spot is the beautiful Wattamolla lagoon for its incredible waterfall-meets-ocean beach and rock jumping (for the brave at heart).
The walk along the headlands from Wattamolla is perfect for whale watching. I've seen humpback whales frolicking off the coast here before. It is one of the most stunning day trips from Sydney.
The Central Coast
Home of the stunning rockpool walks at Avoca Beach, the golden sands of Terrigal and the flocks of birds that make The Entrance the pelican capital of NSW there is fun for all ages in this relaxed coastal area.
The Bouddi National Park offers up beautiful nature walks with Gerrin Point being a perfect spot to whale watch in migration season (May – Nov). Wyrrabalong National Park is also a favourite for whale watching and coastal rainforest.   
Grab some fish and chips, set up camp on the beach and enjoy the sun (watch out for the seagulls though!) or check out the famous year-round pelican feeding at The Entrance at 3.30pm each day. It's a great day trip from Sydney for the whole family.
Kangaroo Valley
Nestled near the Southern Highlands in the Shoalhaven region, the leafy historic town of Kangaroo Valley is waiting to be discovered. As you enter the town, take note crossing heritage listed Hampden Bridge, the only surviving wooden suspension bridge in Australia. The town also has a Pioneer Village Museum to further explore the area's history. 
Kangaroo Valley has plenty of tasty delights for a small country town, with a heritage listed pub, tea rooms and a fudge house for those wanting a sweet treat. It is also incredibly scenic, situated on the Kangaroo River – so there are plenty of opportunities for some lovely walks.
Kangaroo Valley is only a short drive to the impressive Fitzroy Falls, the historic township of Berry and the Southern Highlands region of NSW. It's about two hours' drive from Sydney and from Canberra.
Newcastle
A two-hour drive north of Sydney find us in the industrial coastal area of Newcastle. The central city in the Hunter Region, this gorgeous stretch of sparkling coastline features the 6km Bather's Way walk which is the perfect way to take in dramatic ocean views.
Newcastle is one of Australia's oldest cities, with plenty of convict and first settler history surviving here. The famous Bogey Hole ocean pool is the oldest on this side of Australia's coast and throughout the town, there are plenty of historic sites marked for you to discover.  
Newcastle also has upped its food game with hipster cafes and vintage stalls all around the main street. There are plenty of pubs and brunch spots with heaps of variety to suit any palate, making it a great foodie day trip from Sydney.
The Hawkesbury Region
It doesn't get much more relaxing than the Hawkesbury region. This area centres on the Hawkesbury River and is as historic as it is lovely. On Sundays, you can visit the Australiana Pioneer Village to see examples of buildings from the area's past or if you're more into nature, you can check out some of the many amazing views of the area from spots such as the Hawkins or Hawkesbury lookouts.
A drive to Brooklyn at the gateway to the Hawkesbury is an easy drive from Sydney and it's a great little fishing town to enjoy for a day. Berowra Waters, is also a great spot to take in views of the Hawkesbury and the laid back nature of this drowned valley has even the most active thrill seeker dreaming of days spent out on the water doing nothing. About 120km long in total, this majestic river has all your fishing, boating and walking needs.
Berry
Berry is a gorgeous little town in the Shoalhaven region of NSW famous for its tantalising food, its historic buildings and the quaint little shops that line the main street. An easy and scenic two-hour drive from Sydney along the famous Grand Pacific Drive, it's the perfect weekend getaway in any season.
Renowned for being a bit of a foodie paradise, Berry has plenty of dining options to suit any budget and great produce stores to stock up in if you'd prefer a picnic in the lush green gardens of Apex Park at the town's entrance.
From Berry, it's a mere 10 minute drive to the beach and a 10 minute drive from the start of the Drawing Room Rocks bushwalk which offers astounding views over the valley floor right out to the sea.
Like this post? Pin to save it for later!