(Last Updated On: May 3, 2023)
Villefranche-sur-Mer is a charming little town on the French Riviera that should definitely be on your bucket list if you're in the south of France. There are so many things to do in Villefranche-sur-mer, but it is also perfect even if you're in the mood to do absolutely nothing.
Disclosure:  This post may contain affiliate links. I only recommend products or services I would use myself and all opinions expressed here are my own. If you use these links to buy something, I may earn a commission at no extra cost to you. Thanks for your continued support.
What is Villefranche-sur-Mer?
Villefranche-sur-Mer is located in between Nice and the Principality of Monaco in the Cote d'Azur with the last town on the Riviera, Menton, just a little further along. Compared to Nice, it is a very small town, but punches well above its weight with a beautiful harbour and pretty old town centre.
Geographically speaking, Villefranche-sur-Mer is famous for having one of the deepest natural harbours in the Mediterranean which has been perfect for welcoming cruise ships into the the French Riviera. In fact, the port at Villefranche-sur-Mer is the most visited in all of France.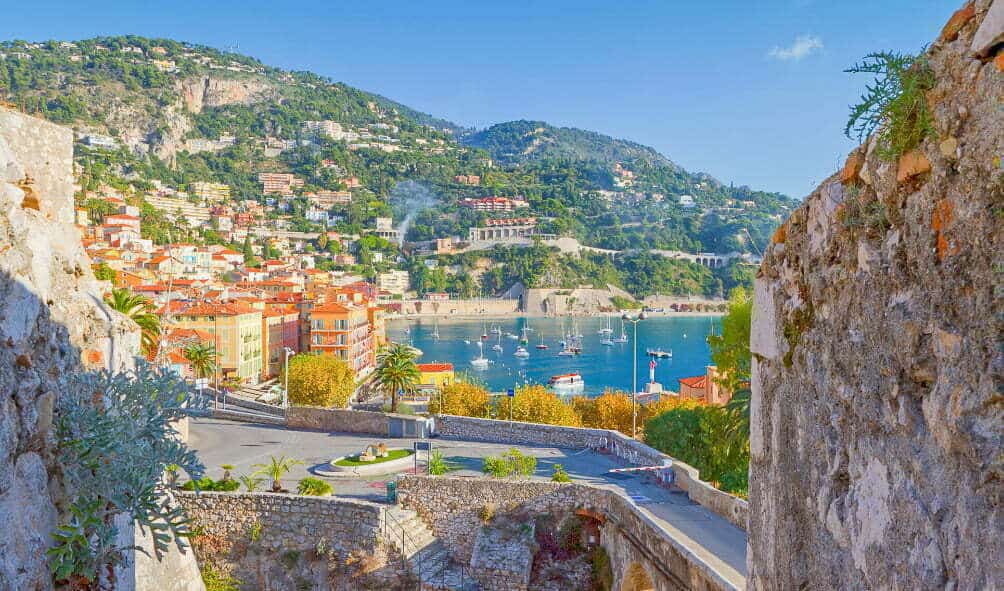 How to get to Villefranche-sur-Mer from Nice?
The best place to base yourself for a week on the French Riviera is undoubtedly Nice. From here, it's very easy to visit all the fantastic and unique towns both along the coast and further inland in the mountainous regions behind.
Drive
From Nice's main square, Place Massena, Villefranche-sur-Mer is an easy 20 minute drive through the Port of Nice and then along the coast via the Boulevard Princess Grace de Monaco.
A rideshare will cost under 20 euros.
Public Transport
Villefranche-sur-Mer is located right at a train station and is serviced by any of the railway stations in Nice. Board the TER bound for Ventimiglia-Stazione at either Nice-Riquier or Nice Ville and travel one or two stops respectively to arrive at the gorgeous coastal town of Villefranche-sur-Mer.
It's so close that it will take less than 10 minutes between the two locations and tickets start from 1.90 euro.
Alternatively you can take the 100 Bus from the Port of Nice bound for Monaco/Menton which also stops at Villefranche-sur-Mer.
Walk
For those who don't mind a long walk, Nice is actually just over an hour's walk from Villefranche-sur-mer.
The quickest route from Place Massena will take you past the Port of Nice and the Parc du Mont Boron before arriving at your destination. It's not the most scenic route, but a walk along the coast would take considerably longer.
Ride a Bike
Because of its proximity to Nice, Villefranche-sur-Mer is absolutely accessible on a leisurely bike ride. Riding will take around 25 minutes from the centre of Nice to the beaches of Villefranche.
Bike rental is absolutely possible and very common in Nice, so you'll have no issues finding a bike.
Things to do in Villefranche-sur-Mer
Relax at the Beach
Villefranche-sur-mer has a few beaches to enjoy and these are mostly sandy beaches, not like the grey pebbles of Nice – though some are grainier than others. The small narrow beach of Plage des Marienieres is a favourite with sunbathers and the water is absolutely crystal clear.
Other beaches to explore are the Plage Villefranche-sur-Mer, Plage des Jeunes and Plage de l'Ange Gardien – all walking distance from the railway station. I mean, you can't come to a town that is literally called Villefranche by the Sea and not go to the beach, right?! It is definitely one of the best things to do in Villefranche-sur-Mer.
Explore the old town
The French Riviera boasts some of the most beautiful old towns in Europe, all with their own unique charms. Villefranche-sur-Mer is no exception.
In fact, a day in Villefranche-sur-Mer can be done very cheaply, because the most beautiful part of the visit is simply ambling through the laneways lined with pastel-coloured shuttered buildings and getting lost in the beauty of the town.
The beautiful colours of Villefranche's buildings line the hill all the way down to the waterfront where there are plenty of restaurants and cafes serving up delicious fresh seafood for lunch.
Visit the Citadelle Saint-Elme
The trip up the hill to the Citadelle Saint-Elme in Villefranche-sur-Mer is worth it just for the incredible panoramic views of the bay. This hulking medieval fortress was built in 1557 and is now home to the Town Hall of Villefranche-sur-Mer as well as an open-air theatre and three museums.
It's completely free to take in the view, though, and throughout the stony walls are sculptures to discover and a beautiful garden overlooking the water.
Where to stay in Villefranche-sur-Mer
Whilst I found it easiest to explore the entire region of the Cote d'Azur by basing myself in the old town of Nice, those looking for a little seachange and a quieter stay might prefer to stay in Villefranche-sur-Mer itself.
There are plenty of options, from apartments to hotels – ranging from luxury to more mid-range accommodation. The Villa Riva Bella is a great 3 bedroom apartment only 100m from the beach and you can find plenty of other vacation rentals on VRBO here. 
In Nice, I loved staying at the Mercure – Marche Aux Fleurs.
The best restaurants in Villefranche-sur-mer
Villefranche-sur-mer has a myriad of fantastic restaurants and eateries – many with stunning views of the ocean or the gorgeous old town. 
Undoubtedly, iconic restaurant La Mère Germain is the most sought after reservation in the town, famous for its bouillabaisse – a fish stew unlike any you've tasted before. The restaurant is located on the water's edge, so it is the perfect lunch stop to take in some of the beautiful French Riviera views.
La Belle Étoile is tucked away in the old town of Villefranche-sur-mer and is definitely worth a visit if you love local Mediterranean cuisine. This restaurant is only open for dinner and only for a brief 2.5 hours in the evening, so make sure you time your visit well!
Finally, Les Garçons is a great value family friendly restaurant with a gorgeous little courtyard area to eat in. The desserts are fabulous, and for mains it is hard to go past the lamb shanks.
Where else to visit in the French Riviera?
There are so many gorgeous towns in the region that it's hard to choose which ones to visit. Once you've explored all the things to do in Villefranche-sur-Mer, you can catch the train along the coast in either direction and either visit Monaco, Menton or even cross over into Italy via Ventimiglia. Otherwise, head the other way and stop in Nice, Cannes or Antibes to name a few.
For a special treat, you should also consider a trip up into the mountains where gorgeous medieval villages like Eze, Saint Paul de Vence and Grasse can be visited on a day trip.
Like this post on things to do in Villefranche-sur-Mer?
Pin to save it for later!